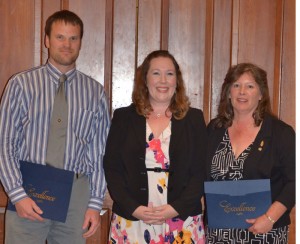 Mount Wachusett Community College celebrated the academic accomplishments of extraordinary students at the annual Evening of Excellence awards dinner May 9 at the Four Points by Sheraton, Leominster. The students were honored with prestigious awards not only for their performance inside of the classroom, but for their contributions in the community as well.
"This is a fantastic time of the year," said President Daniel M. Asquino. "It represents and celebrates your many accomplishments, academic pursuits, civic engagement and contributing to the community. That really is what this college and life is all about."
Dr. Vincent Ialenti, dean of academic & instructional technology, and Rosanne Morel, professor and chair of the Early Child Education department, served as the event's masters of ceremony, focusing on the history of the college, which turns 50 this year.
"I have worked at MWCc for 86 percent of those 50 years, so I was not there from the very beginning, but I was fortunate to get to know all of the original players involved in the college's founding," Ialenti said.
Greg Clement, assistant dean of students, and Dr. Melissa Fama, vice president of Academic Affairs, welcomed the gathering of students, family member and friends.
In addition to curriculum awards and other recognitions, the MWCC Foundation, Inc. presented a number of awards during the ceremony. Executive Director Carla DeFosse noted that the foundation has awarded $240,000 in scholarships to date during the 2012-2013 academic year.
The following awards were presented:
OUTSTANDING ACHIEVEMENT AWARDS
All USA Academic Team Nominees: Karen A. Duchnowski and Elizabeth M. Reiser.
Visions Program Award: Mary L. Burns
RX Award: Angelica Ryan
Best of English 101: Kyle F. Geddes, Nicholas Jamieson, and Sergio J. Solorzano
Sandy Signor Award: Alexander P. Moore
Jean Tandy Award: Rebecca M. Dudley
2013 Newman Civic Fellow Award: Bryan D. Sanderson
Service Learning Scholarship: Bryan D. Sanderson and Elizabeth M. Reiser
CURRICULUM AWARDS
Art: Tia M. Kinsman
Automotive Technology: John C. Galloni-Rose and Jacob C. Coleman
Biotechnology/Biomanufacturing: Michelle J. Mayer
Broadcasting and Electronic Media – Photography Option: Paige E. Crane
Business Administration Career: Karen A. Duchnowski
Business Administration Transfer: Chrystal J. Maguire
Clinical Laboratory Science: Devin M. Gosselin and Heather M. CampoBasso
Complementary Health Care: Christine T. Oakes
Computer Graphic Design – Print Concentration: Tamara R. Malay
Computer Graphic Design – Web Concentration: Jonathan R. Skinner
Computer Information Systems: Bobby J. LeBlanc
Criminal Justice: Rachel L. Ryan
Dental Hygiene: Jennifer L. White
Early Childhood Education Career: Malisa J. Younger
Early Childhood Education Transfer: Darri Wenning
Energy Management: Kris L. Provost
Fire Science: Mark A. Bettez
Human Services: Christine L. Eck
Liberal Arts & Sciences: Carol A. Allain, Wendy H. Anderson and Claudia Elbourn
Medical Assisting: Julie A. Grigarauskas
Natural Resources Technology: Christin R. Racette
Nursing: Rya M. Bennett, Felicitas G. Fandreyer and Nancy H. McLaughlin
Paralegal: Matthew J. Niles
Physical Therapy Assistant: Louise A. Helmer
MWCC FOUNDATION, INC. AWARDS
Alumni Scholarship: Julie R. Graziano
Barbara Chaplin Memorial Scholarship: Bonnie E. Mailman
Barnes & Noble Scholarship:  Serena C. Senecal and Rosemary Mruk
Carl Tammi Award: Timothy Loiselle
Carrie Progen Memorial Scholarship: Jennifer L. Potvin
Craig Hamel Scholarship: Elizabeth W. Chomba and Felicitas G. Fandreyer
Ellen Daly Dental Hygiene Scholarship: Whitney Fox
Father Adamo Scholarship: Tia S. Long
James D. Murphy Scholarship: Christine L. Eck
Jonathan C. Craven Scholarship: Nicole M. Riel
John Burton Award: Tia M. Kinsman and Mary E. Bogue
Joseph B. Ruth Scholarship: Glenn R. Butler
H. Marilyn Kiosses Scholarship: Kimberly J. Laramee and Patricia L. Johnson
Melissa Herr Marsh Scholarship: Amanda L. Gorrell and Krista S. Shell
Millie McGuire Foundation: Christina L. Wiggins
Mount Observer Scholarship: Claudia Elbourn
Robert Weibel Scholarship: Sara K. Barnes
Robert H. Gilman Memorial Scholarship: Ian Van Luven
Sara Kajel Award: Sandra A. Bushey and Shayna M. Deslauriers
MWCC Veteran's Memorial Scholarship: Daniel R. Barry
MEMORIAL AWARDS
Aspasia Anastos Award: Julie R. Graziano
Judge Moore Award: Claudia Elbourn and Alexander P. Moore
Peter J. Trainor Leadership Award: Bridgette E. Woodcock
HONORS SOCIETY RECOGNITION
Alpha Beta Scholarship: Christina L. Wiggins and Kathleen A. Matson
Honors Program: Anthony S. Cesolini, Pamela S. Flint, Brittni A. Motyka, Rosemary Mruk, Melanie H. Olson, Lindsey M. Smart and Christina L. Wiggins