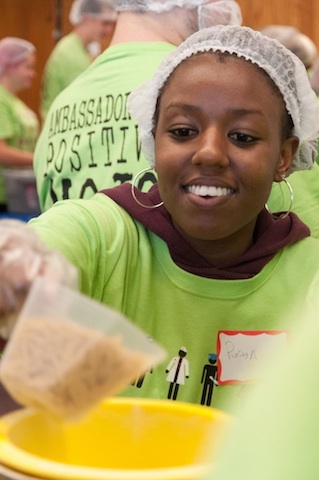 Capitalizing on its students' eagerness to participate in community-engagement activities and a successful first year, Mount Wachusett Community College hosted its second annual United Way Day of Caring at its Gardner campus on Thursday, Sept. 18.
Through the leadership of the Center for Civic Learning and Community Engagement, more than 200 volunteers packaged 20,736 meals for food pantries and veterans centers in North Central Massachusetts. An additional 200 meals are being made available to MWCC students struggling with food security through the college's Students Serving Our Students (SOS) program.
"Civic engagement has been the cornerstone of our college for the last two decades, and it is the cornerstone of our democracy," said MWCC President Daniel M. Asquino, whose educational philosophy and college curriculum have long stressed civic engagement. "As Americans, we have an obligation to give back, and we are thrilled that our students and faculty can confront the major issue of hunger by helping  individuals in North Central Massachusetts."
MWCC became a Day of Caring host site for the first time in 2013, following years of participation in the program and appeals from students wishing to donate their time. This year, the center organized 75-minute volunteer shifts from 8:30 a.m. to 3:15 p.m. to accommodate students' class schedules and maximize the number of meals distributed throughout the community.
"This is a very important undertaking because we are supporting food pantries throughout North Central Massachusetts, most of which have low stocks," said Fagan Forhan, Director of the Center for Civic Learning and Community Engagement. "Volunteer turnout this year has surpassed our expectations, so we made the decision to up the ante from 16,000 meals to 20,000 meals."
Outreach, Inc., an Iowa-based nonprofit that also operates in the Northeast, provided supplies to create packages of meals consisting of macaroni and cheese and rice and beans.
Forhan credited the increased turnout to MWCC student and AmeriCorps VISTA John Day, who spearheaded the recruitment process. Among the many volunteers, MWCC student Jasson Alvarado Gomez arrived at 7 a.m. and unloaded an entire truck by himself.
"I get to school at 7 a.m. every day, so I was happy that I could help set up before the event started," said Gomez, who, in his first year of volunteering, worked three shifts. "Helping people gives me so much energy, and I love doing it."
MWCC participated along with numerous other organizations in North Central Massachusetts, recognizing the 19th Annual United Way Day of Caring.
– Cameron Woodcock