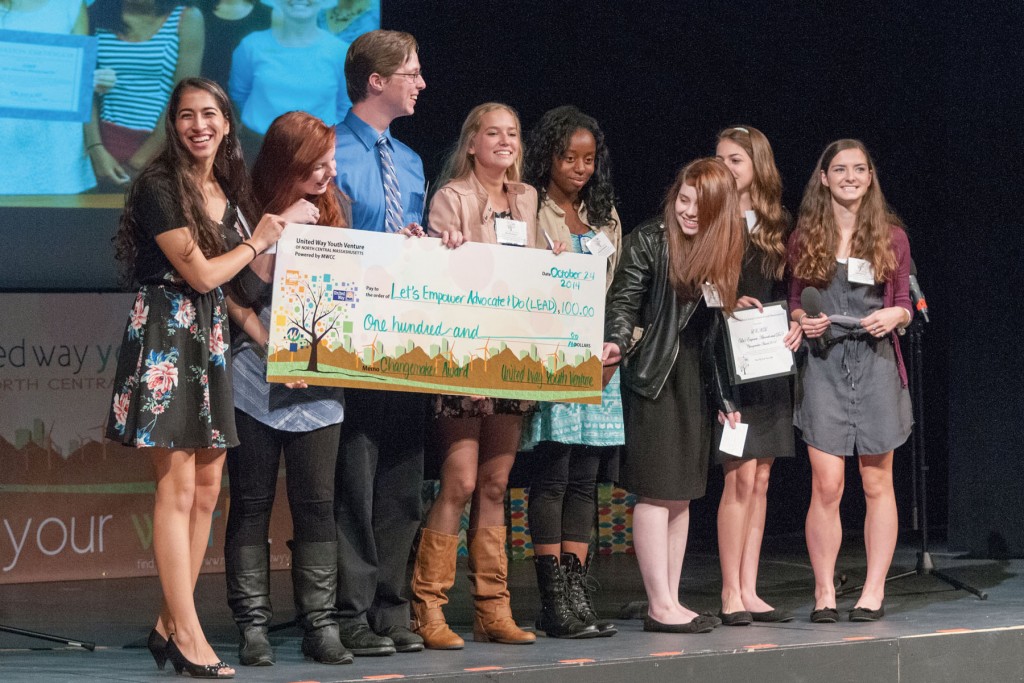 More than 350 students from 10 area high schools gathered at Mount Wachusett Community College for the United Way Youth Venture of North Central Massachusetts Fall Kickoff on Oct. 24.
MWCC coordinates the Youth Venture program along with the United Way and Ashoka's Youth Venture.
The program exists to empower youth through support for innovative, community-outreach proposals, and its annual event celebrates and further educates these future leaders. Successful proposals from this most recent year offered support for animal shelters, Alzheimer's patients and homeless children.
Through various training sessions, attendees in the 2014 kickoff received guidance on creative fundraising, mentorship and leadership, outreach to communities and schools, and collaboration with fellow venture participants. Speakers from the United Way and its community partners, including MWCC, also offered words of encouragement to an audience that represented 10 percent of the student population.
"Change your world," said MWCC President Daniel M. Asquino during his opening remarks. MWCC's Center for Civic Learning and Community Engagement also houses a segment of the UWYV.
Keynote speaker Marquis Cabrera discussed Foster Skills, initially a venture and now an award-winning social enterprise dedicated to empowering foster children to become successful, productive citizens.
Additional speakers included Phil Grzewinski, president of the United Way of North Central Massachusetts; Bob Chauvin, president of Tyco SimplexGrinnell; and Autumn Williams, partnerships manager at Ashoka's Youth Venture.
Through three separate awards, the United Way recognized Ally of the Year, Champion of the Year, and Changemarker of the Year. Last year's Changemaker honoree, Kylee McCumber, presented the award to the 2014 wining team, Let's Empower, Advocate & Do (LEAD).
Throughout last year, over 8,965 students were exposed to the UWYV program, with 2,623 actively engaged in workshops and developing ideas for ventures. A total of 748 students took leadership roles in current ventures or launched one of 29 new ventures, receiving over $22,000 in direct seed funding for their efforts.