Mount Wachusett Community College served as the backdrop welcoming 271 Massachusetts residents from 58 different countries as new U.S. citizens during a naturalization ceremony on March 15 in the Fine Arts theatre.
The ceremony was carried out by U.S. Citizenship and Immigration Services (USCIS) and the U.S. District Court for the District of Massachusetts. The Honorable Timothy S. Hillman, United States District Judge, presided over the ceremonies with the clerk of the court administering the Oath of Allegiance to America's newest citizens.
As the event began, Mount Wachusett Community College President Daniel M. Asquino addressed the soon-to-be citizens as the proceedings got underway. He encouraged those being nationalized to get involved, reminding them that the country was built by immigrants who strove for change and engaged actively in governing a new country.
"Congratulations to all of you who are about to become a citizen of the United States of America," said Asquino who explained what it meant to be a citizen. "It is being engaged, voting, taking care of one another, your neighbors and your citizens … as you become citizens and leave us today make our democracy better than it is now."
Senator Stephen Brewer reminded those gathered of the commitment the United States has made to immigrants; offering a promise of welcome. To these new citizens being welcomed, he emphasized the refrain of E Pluribus Unum – out of many one – that epitomizes the melting pot that is the United States.
"You become a part of the greatest country in the world and we welcome you," Senator Brewer told the gathered crowd.
Gardner Mayor Mark P. Hawke took a somewhat lighter tone as he noted that although the crowd represented members of 64 communities, none of those gathered to become citizens were from Gardner. He spoke of Gardner's history as a location for immigrants and the positive impact they had on the area's culture and economy before encouraging those at the ceremony to become a part of the future of the city.
"We do have a rich history of immigrants in the city and I seriously do hope you consider the city of Gardner if you ever consider relocating in the future," said Mayor Hawke to laughter from the audience.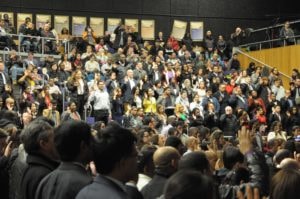 The real stars of the event were the 271 citizenship candidates who originated from the following 58 countries: Albania, Argentina, Bahrain, Bangladesh, Bhutan, Brazil, Burma, Cambodia, Canada, People's Republic of China, Colombia, Cote D'Ivoire, Czech Republic, Denmark, Dominican Republic, El Salvador, Germany, Ghana, Guatemala, Guyana, Haiti, Hong Kong, India Iran, Iraq, Ireland, Italy, Jamaica, Japan, Jordan, Kazakhstan, Kenya, Laos, Lebanon, Liberia, Mexico, Moldova, Morocco, Nigeria, Pakistan, Peru, Poland, Portugal, Republic of Korea, Russia, Senegal, South Korea, Sri Lanka, Syria, Taiwan, Thailand, Trinidad and Tobago, Turkey, Uganda, Ukraine, United Kingdom, Uruguay, and Vietnam.
The candidates reside in the following Massachusetts cities and towns: Acton, Ashburnham, Auburn, Bedford, Billerica, Boston, Boxford, Bradford, Burlington, Cambridge, Chelmsford, Clinton, Concord, Danvers, Dracut, Dudley, Fitchburg, Georgetown, Gloucester, Greenfield, Groton, Haverhill, Holden, Holyoke, Hudson, Lancaster, Lawrence, Leominster, Littleton, Lowell, Manchester, Marlborough, Maynard, Methuen, Middleton, Newburyport, North Adams, North Andover, North Billerica, North Oxford, Palmer, Paxton, Pepperell, Petersham, Pittsfield, Reading, Salisbury, Shrewsbury, Southborough, Southbridge, Springfield, Sudbury, Templeton, Tewksbury, Webster, Wenham, West Springfield, Westborough, Westfield, Westford, Westminster, Wilmington, Winchendon, and Worcester.
As he closed the ceremony, Judge Hillman again encouraged the new citizens to make use of their newfound rights and become involved.
"I am proud to call each and every one of you a fellow American," said Judge Hillman. "Perhaps you or one of the children in this room today, hopefully more than one, will become a great leader of this nation."
For more information on USCIS and its programs, please visit www.uscis.gov.