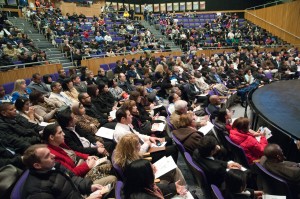 Community colleges are often referred to as "the Ellis Island" of American higher education, so it was only fitting that 207 Massachusetts immigrants from 53 different countries officially gained U.S. citizenship during a Naturalization Ceremony held at Mount Wachusett Community College on Feb. 6.
The U.S. Citizenship and Immigration Services selected MWCC as the setting as part of its ongoing initiative to bring ceremonies to local communities, as well to recognize the college's 50th anniversary, said Joseph S. Forte of the USCIS, a former Gardner resident and alumnus of MWCC.
The USCIS presented the candidates for naturalization to the U.S. District Court of Massachusetts, before the Honorable Robert B. Collings, United States Magistrate Judge, who also administered the Oath of Allegiance to America's newest citizens.
The 207 new citizens emigrated from 53 countries and now live in communities throughout Massachusetts, including Athol, Bolton, Clinton, Gardner, Harvard, Leominster, Lunenburg, and Worcester. Two of the new citizens serve in the U.S. military and were recognized during the ceremony.
"It is a tremendous honor for Mount Wachusett to host this Naturalization Ceremony and participate in your celebration," MWCC President Daniel M. Asquino said. "Across this country, community colleges like Mount Wachusett have consistently provided an "open door" to education as an aide in helping all residents achieve the American Dream. That is why they have been named the Ellis Island of Higher Education."
"Each of you has traveled great distances – both in miles and in life experiences – to reach this moment. Today, as I look out at the faces before me, I can only imagine the times of struggle and difficulty that you have overcome. You have no doubt sacrificed and worked earnestly to bring you to this day of achievement. As you celebrate this day, I encourage you to continue to deepen your relationship with this welcoming nation."
He encouraged the new residents to "fully participate in this democracy" and make civic engagement their next cause. "Civic engagement, service to others, is the fiber that strengthens this country and in the final analysis, strengthens each one of us," he said, adding that civic engagement is a hallmark of Mount Wachusett Community College. "As you go forward, let the joy and pride you feel at this moment as American citizens always serve as an inspiration to others. Congratulations."
The United States has a long history of welcoming immigrants from all parts of the world. During the last decade, U.S. Citizenship and Immigration Services welcomed more than 6.6 million naturalized citizens into the fabric of our nation. In fiscal year 2012, approximately 676,396 individuals became U.S. Citizens.
Individuals seeking to become a citizen of the United States must apply for naturalization and fulfill certain eligibility requirements set forth in the Immigration and Nationality Act. These general eligibility requirements specify that the applicant must be at least 18 years of age; be a lawful permanent resident; have resided in the U.S. as a lawful permanent resident for at least five years; have been physically present in the United States for at least 30 months; be a person of good moral character who is able to speak, read, write and understand the English language; have knowledge of U.S. government and history; and be willing and able to take the Oath of Allegiance.
MWCC student Paige Crane, who is studying photography and is active in Theatre at the Mount, sang God Bless America and the National Anthem.
Judge Collings called the day "a joyous occasion," not only for the new citizens and their families, but for the judges who preside over the ceremonies. Though many of the ceremonies take place at Faneuil Hall, "It's a great idea to have ceremonies the communities so other citizens can observe them and appreciate them as they go forward," he said.
In his remarks to the new citizens, Judge Collings noted that the United States is "a nation of immigrants," as described by President John F. Kennedy in a book of that title. Unless they are Native American, "we are all immigrants or descendants of immigrants," the judge said, whose father was naturalized in the 1930s and whose daughter, adopted from Korea, became a U.S. citizen at age two in the 1970s.
Judge Collings spoke of the blessings of becoming a U.S. citizen, as well as the responsibilities, including an obligation to serve in the military if needed, voting in election, and serving jury duty if requested.
"It was a long time coming," said one jublilant new citizen, who moved to Shrewsbury eight years ago from Kenya. Others participating in the ceremony said they came to the United States with the hope of building a better future for themselves and their children, referred to their new citizenship as "not just a privilege, but a responsibility."