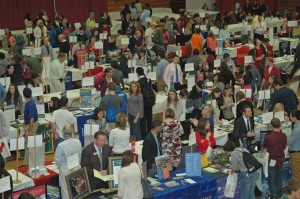 More than 1,200 high school students from approximately 50 schools, MWCC students and others turned out for the annual New England Association of College Admissions Counseling (NEACAC) College Fair, hosted by MWCC's Admissions office on Sept. 20 in the Fitness & Wellness Center.
The free fair is the largest college fair held in Worcester County during the fall and allows attendees to interact with representatives from nearly 200 public and private colleges and universities, as well as military institutions. Representatives from institutions throughout the country attended, as well as one who traveled from London, England.
"It's a great fair for the students, as well as for the colleges and universities that attend," said Ryan Forsythe, Associate Vice President of Strategic Enrollment Management and Student Financial Aid.
Faculty and staff members from throughout the college community helped ensure a successful two-hour fair by volunteering during the event.