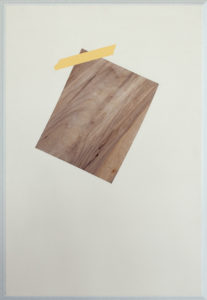 A reception will be held on Friday for Mount Wachusett Community College Alumnus Taylor French Benoit at the MWCC East Wing Gallery to mark the beginning of an art show featuring his new work.
"Primarily concerned with painting as process, my paintings seek to describe a perceptual process in and of themselves and become frameworks of potentiality rather than images or objects loaded with a specific meaning. Thinking of Painting in this way, as precursory to contextual specificity, I am afforded the ability to examine contemporary issues from a metaphysical vantage, one of openness, emptiness, and potential," said Benoit in his artist statement.
Benoit is a painter and sculptor currently living and working in South Portland, Maine. After attending Mount Wachusett Community College and receiving his Bachelor of Fine Art degree from Maine College of Art, his interests in Eastern Psychologies led him west, where he studied Transpersonal Psychology at the California Institute of Integral Studies. Now back home in his native New England, Benoit concerns himself with reconciling his psycho-spiritual findings with the process of painting.
The show will run from October 11 to December 2 at the East Wing Gallery located at Mount Wachusett Community College's Gardner campus. A reception for the exhibit will be held on Friday, Oct. 13 from 3:30 to 6 p.m. A gallery talk will take place on Wednesday, Nov. 8 from 12:30 to 1:30 p.m.