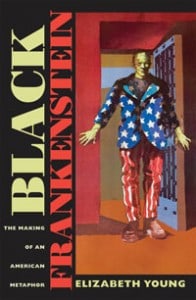 Though the calendar says it's the dead of winter, Frankenstein's monster is still alive as Mount Wachusett Community College's Humanities Project continues its series "Myths, Monsters, and Modern Science: Frankenstein's Legacy" through April.
Sponsored through a grant from the National Endowment for the Humanities, this year's theme takes an in-depth look at Mary Shelley's 200-year-old novel Frankenstein, or the Modern Prometheus, and its impact in the modern era. Free events will take place at MWCC's Gardner campus and in the community
On Wednesday, February 17, Professor Robert Schwartz from Mount Holyoke College will present "Historical Perspectives on Frankenstein" from 12:30-1:30 pm in MWCC's North Café.
Elizabeth Young, author of Black Frankenstein: The Making of an American Metaphor, and a professor of English and gender studies at Mount Holyoke College, will speak Thursday, Feb. 25 from 6:30 to 8 p.m. at the Fitchburg Art Museum. In her book, Young identifies and interprets the figure of a black American Frankenstein monster as it appears throughout 19th and 20th-century U.S. culture in fiction, film, essays, painting and other media.
On Saturday, March 5, from 11-5, Professor Joseph Moser of Fitchburg State University will present two film versions of Frankenstein: James Whale's 1931 classic starring Boris Karloff, and Mary Shelley's Frankenstein, directed by Kenneth Branagh in 1994. This program, co-sponsored by the Friends of the Leominster Library, includes a light lunch between films. Registration to this event is required and can be made online through the Calendar of Events at www.leominsterlibrary.org or by calling the library's information desk at 978-534-7522, ext. 3.
On Thursday, March 24, MWCC Assistant Professor of Philosophy Daniel Soucy and UMass doctoral candidate Shelley Errington Nicholson, director of community learning with MWCC's Center for Civic Learning and Community Engagement, will discuss, "Girls and Their Ghost Stories: Feminism, Philosophy, and Frankenstein," at the Athol Public Library from 6:30 to 8 p.m.
In April, two final events are scheduled in the North Café at MWCC: on Tuesday, April 5, Mel Brooks' parody, Young Frankenstein, will be shown from 12:30 to 2:30 p.m., and on Wednesday, April 27, MWCC students will present Frankenstein-themed projects from the 2015-2016 academic year.