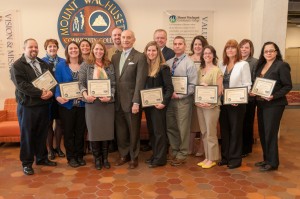 Henry David Thoreau's 160-year-old directive "Simplify, Simplify" is finding renewed meaning in today's workplace. At Mount Wachusett Community College, seventeen employees recently received Lean Green Belt Certification to help streamline operations college-wide.
Lean training teaches participants to examine how they do things with an eye toward identifying ways to achieve greater efficiency, eliminate waste and streamline processes for more efficient and cost effective outcomes.
The goal is to build a solid foundation for a culture of continuous improvement, said MWCC President Daniel M. Asquino. "This training will prove to be quite valuable for the college and our students."
MWCC coordinates Lean, Six Sigma and other workforce development programs for area companies, though this was the first time college employees participated. MWCC is the first community college in Massachusetts to adopt Lean college-wide, said Jeremiah Riordon, Associate Vice President of Lifelong Learning and Workforce Development.
The training, initially implemented in the manufacturing world, and recently was adapted for administrative purposes, is gaining national momentum among state agencies, colleges and universities, and other organizations. According to the Education Advisory Board, which recently completed a study on implementing Lean for Process Improvement at Community Colleges, higher education administrators are increasingly turning to the principles of Lean Six Sigma to enhance efficiency of institutional processes.
MWCC administrators, faculty and staff participated in the training, which required a project presentation and certification exam. The training and certification was administered by the William George Group, a Boston-based consulting firm that serves clients worldwide. Working individually and in groups, the participants tackled projects designed to improve procedures at the main campus in Gardner and satellite campuses in Leominster and Devens.
"The primary purpose of Lean is to cultivate a climate of continuous improvement in all areas of process management and to eliminate waste," said Riordon, one of the training participants. "Lean forces you to ask why something is in the process. If there are steps that don't add value, we've got to ask, 'Why is it in the process?'"
For example, his team tackled the 52-step process of creating a brochure of noncredit course offerings, which starts with selecting courses to writing, editing, proofing and mailing the brochures. "After reviewing the process, we eliminated redundancy and the new process is just 14 steps and frees up one full staff person from the process," he said.
The projects implemented include streamlining procedures in the human resources, marketing, admissions, records and institutional advancement offices, and improving efficiency of contract approvals, dual enrollment registration and placement testing.
The newly certified Lean Green Belt employees are:
Lea Ann Scales, Vice President of External Affairs, Communications and K-12 Partnerships; Robin Duncan, Senior Advisor to the President; Linda Fazio, Comptroller; Jeremiah Riordon, Associate Vice President, Lifelong Learning and Workforce Development; Heather Mulry, Director, Human Resources; Connie Helstowski, Director, Payroll and Benefits; John Walsh, Dean, Leominster Campus; Patrice Lincoln, Dean, Access & Transition; Margaret Jaillet, Assistant Dean, School of Health Professions, Public Service Programs and Social Sciences; Rebecca Forest, Assistant Dean of Records and Research; Sarah McMaster, Director of Marketing and New Media; Ramon Gonzalez, Director, Educational Talent Search; Kerrie Griffin, Director, Devens Campus; Heather Layton, Director, Grants Development; Shane Mullen, Senior System Analyst/Programmer; Michael Watson, Instructor, Manufacturing & Quality Systems; Teresita Encarnacion, Coordinator, Development Training.