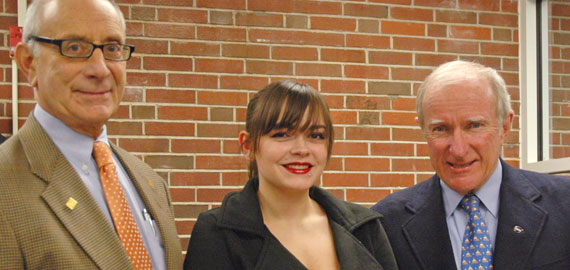 MWCC joined the Massachusetts Department of Higher Education and four other campuses to promote the academic excellence and value of the Commonwealth's public colleges and universities at a Go Public! event held Nov. 8 at Mahar Regional High School in Orange.
In addition to MWCC, Greenfield Community College, the University of Massachusetts Amherst, Fitchburg State University and Westfield State University participated in the free event for prospective students and families. The program was hosted by state Senator Stephen Brewer and was part of a series of "Go Public!" events that took place at high schools across the state this fall.
MWCC student Amber McHale was among the speakers. A 2011 graduate of MWCC's Gateway to College program, Ms. McHale is continuing her studies in art at MWCC, and plans to transfer to another Massachusetts public college and pursue a career as a veterinary assistant.
"After graduating from high school through Gateway, I decided to continue to attend MWCC as a regular traditional college student. Motivated by my love of art and the sense of community I had experienced at the college, I joined the Art Club during my first semester. These experiences at MWCC provided me with the foundation so that I can move into the career of my dreams," she said.
MWCC President Daniel M. Asquino joined UMass Amherst Chancellor Kumble Subbaswamy; Dr. Robin E. Bowen, Vice President of Academic Affairs at Fitchburg State University; and Greenfield Community College President Robert Pura as featured speakers; along with students representing each campus. MWCC Financial Aid Director Kelly Morrissey presented information on
applying for financial aid
, and admissions representatives from each campus provided information about the institutions. Mahar Superintendent Michael Baldassarre emceed the event.
"I believe all the people in my district deserve a chance to attend college," Senator Brewer said. "Massachusetts leads the nation in the number of jobs that are going to require at least some college education – 70 percent of all jobs by the year 2018. When you go to college, it's good for your future, and it's also good for the future of Massachusetts. I believe our students deserve excellence in higher education at a cost that won't leave them drowning in debt for years to come. None of you should have to choose between buying a home and paying off your student loans," he said.
"The promise of America is to make sure that you have opportunity in this world."