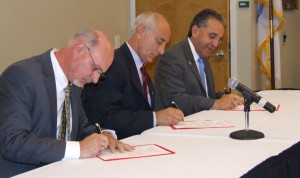 Mount Wachusett Community College, Quinsigamond Community College, and Fitchburg State University recently signed articulation agreements that will allow for seamless training and educational opportunities for members of the state's advanced manufacturing workforce.
Officials from the Patrick-Murray Administration joined U.S. Rep. James McGovern, state legislators and officials from Massachusetts Manufacturing Extension Partnership, and the presidents and representatives of the institutions to announce the partnership. MWCC President Daniel M. Asquino, QCC President Gail Carberry and Fitchburg State President Robert V. Antonucci signed the agreements during a ceremony on Oct. 9 at Presidents' Hall in the Mazzaferro Center on the Fitchburg State campus.
U.S. Rep. James McGovern said manufacturing is key to the state's future, and said education will be an important factor in its success. The articulation agreements are indicators of strategic partnerships between the private and public sectors, he said.
"Part of the natural resources of Massachusetts, I've always felt, are our colleges and universities," Congressman McGovern said. "Collaboration is very, very important. The private sector needs the assistance of the public sector."