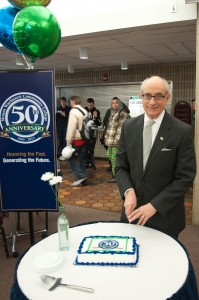 Mount Wachusett Community College kicked off its 50th anniversary celebration on Jan. 30. The 1960s-style band Shakin' all Over performed tunes from the decades, while students, faculty and staff posed for 1960s photos.
"I think what makes our 50th special, is we have faculty members who were here during the early years, including those who were either students or have been teaching for quite some t6ime. It makes it even more amazing," said SGA member Lourdes Abreu.
"I think it's awesome, added Liberal Arts and Sciences major Rosemary Mruk. "I think it's really nice a a really great way to welcome all of the new students who are coming in, as well as for those of us who are graduating."
To commemorate the 50th anniversary, a series of events, community service projects, career and college fairs, exhibits, dedication ceremonies, an essay contest, a time capsule, and other programs will take place throughout the year.
Upcoming spring events include a free concert presented by International Neo-Celtic  artist Kellianna, who will perform songs of myth & magic on March 15 at 8 p.m. in the theatre. The concert is open to the public and will be recorded by students in MWCC's Broadcasting and Electronic Media program for DVD distribution.
A presentation on the history of MWCC, led by Dr. Ialenti, will take place April 4 at the Gardner Museum.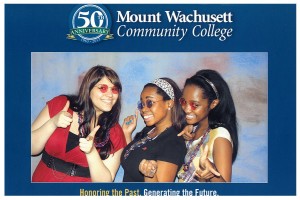 A Free College Day for the public will take place Saturday, April 13. The event offers fun, informative workshops and classes on a variety of topics including computers, photography, science and technology, dual enrollment opportunities for teens, theatre, dance, public speaking, fitness, criminal justice, writing, and much more. The event will also feature an academic and career expo and door prizes including Theatre at the Mount season tickets, Fitness and Wellness Center memberships, free credit, noncredit and workforce development courses, college sweatshirts, and other prizes.
Information about MWCC's 50th anniversary celebration and activities, historical photos, yearbooks, tributes and more can be found on the college's website.