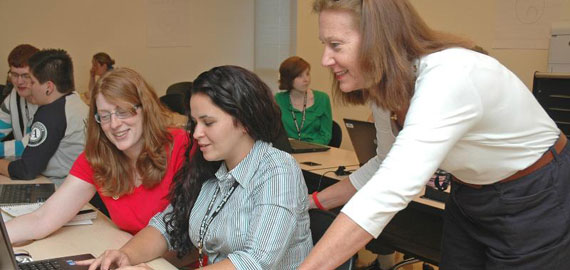 Wondering where the hot jobs are, or where they'll be when you graduate? MWCC is launching Career Coach, a free online tool that allows students, prospective students and community members to explore potential careers, earning potential, job prospects within their geographic region, and more.
MWCC is the only college or university in Massachusetts offering this service and is proud to deliver this benefit to current and prospective students, as well as the greater community.
On Aug. 27, 15 new members of the AmeriCorps Job Ready Program, a collaborative between MWCC and Fitchburg State University, participated in a training session to prepare them to use this new tool to assist students and job seekers. MWCC will conduct training sessions throughout the upcoming academic year for students and community members, and the tool can be accessed independently, as well.
Career Coach is designed to help students find a good career by providing the most current local data on wages, employment and job postings, and displays the associated education needed to get there. Developed by Economic Modeling Specialists, Inc., Career Coach can be found on MWCC's website at mwcc.edu. The college is implementing the tool to assist area residents with their career and academic selections. Brenda Schelling-Biggs, Director of Institutional Planning & Effectiveness, and Fagan Forhan, Director of Experiential Learning Opportunities and Civic Engagement, are leading the new initiative with support from representatives from throughout the college.
Through a simple keyword search, students and any visitor to the college's website can learn about the employment prospects of careers they want to research. The real-time information is customized to the college's geographic region and includes detailed wage estimates and up-to-date job postings associated with any career. Users are directed to the college's programs when searching for specific jobs.
Career Coach also includes a built-in resume builder to help students and jobseekers quickly and efficiently put together an updated resume with key skills and job experience highlighted.
"Career Coach is an exciting and fun 'how to' tool to help students, their parents and the general public narrow down realistic career and job options by matching job titles to job availability within a 20, 50 and 100 mile radius of the college," Brewerton said. "By matching these career dreams to degree and certificate programs offered at the college, students will know, in advance of graduation, who is hiring and where. Students just starting their college major search can also search by specific major and then cross reference jobs suitable for graduates in that major," she said. "Career Coach takes the mystery out of the job search process. Equipped with the latest labor market data, students are now able to make informed decisions when it comes to their career saving them both time and money."