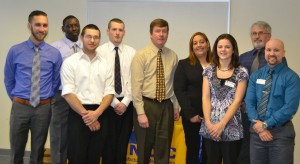 Recent graduates of Mount Wachusett Community College's Advanced Manufacturing Career Preparation program met special guests at their recognition ceremony – their potential employers.
Recruiters and human resource professionals from Nypro, Bemis Associates, Injectronics, RockTenn and Boutwell Owens were at the college's Devens campus on April 9 to congratulate the new graduates and speak with them about job opportunities at their companies.
Julie Crowley, regional manager for the national grant funding the project, said the matchmaking is one service of the six-week program, currently free to qualifying students through a Trade Adjustment Assistance Community College and Career Training (TAACCCT) grant from the U.S. Department of Labor, Employment & Training Administration.
"We know this isn't about just getting a job. This is going to be a career path," Crowley said.
The training program is designed especially for unemployed or underemployed adults, veterans and recent high school graduates who want to train for careers the manufacturing industry. Programs provide students with training in skills required for entry-level employment in positions such as technicians in manufacturing, validation, quality control, documentation, and process operations. Students who successfully complete the program will earn an MWCC Certificate of Completion, an OSHA 10-hour Safety Certification and the National Career Readiness Certificate, while learning about working in the fast-growing manufacturing field.
Following stints in restaurants and lumberyards, plumbing and some manufacturing, 22-year-old Shane Murray of Fitchburg enrolled in the program to gain training and certification to build a career, he said. "I just needed a change and this was the perfect thing I needed. I'm glad I made this decision."
Marciel Vargas, 38 worked in textile manufacturing in the Dominican Republic and holds a bachelor's degree in industrial engineering from her native country. After moving to the U.S. a decade ago, she honed her English skills, raised her family and worked part-time as a tax preparer. When her children entered school, the Fitchburg resident decided it was time to re-enter the workforce.  In addition to gaining employment, her goal is to become licensed in industrial engineering in Massachusetts within two years. She said she considers the MWCC training program an important rung in the ladder to get there.
"I enjoy the challenge of the work. I like to make things and there's a variety of things you can do in manufacturing," she said. "Even though you may be working on one specific product, there are a lot of things going on in the process."
In addition to Murray and Vargas, other recent graduates are Chad McCarthy of Westminster, James Nason of Phillipston, Paul Kanga of Worcester, Jim Concannon of Fitchburg and Bill Cohan of Westford.
Lauren Beckner, human resources coordinator for Injectronics, said the medical device manufacturing company recently tapped into the training program for two components – blueprint reading and quality boot camp – to help an incumbent worker gain skills in order to be promoted.
Through the TAACCCT grant, the programs will continue to be offered for free for the next 18 months to prepare students to directly enter the workplace. The sessions include training in basic machines and robotics, measurement techniques, electronics, Lean,Six Sigma, Work Keys, quality/clean room processes, blueprint reading and success skills. Students can further their education in the manufacturing field through MWCC's new academic certificate and associate degree programs in Analytical Laboratory & Quality Systems, and earn transferrable credits toward a bachelor's degree.
An upcoming, two-week Quality Boot Camp training will begin on April 27. The upcoming six-week, 180-hour Advanced Manufacturing Career Preparation program will begin on May 11. This program is open to students who do not already have a college degree. The course includes hands-on work with robotics and other equipment, as well as self-paced KeyTrain curriculum leading to the National Career Readiness Certification. Additional six-week sessions will take place throughout the year.
For more information about enrolling in the training program, contact Career Development Coaches Christian Reifsteck or Meghan Koslowski at 978-630-9883 or email creifsteck@mwcc.mass.edu.