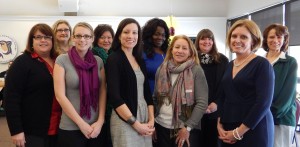 Faculty and staff members who play an instrumental role in the lives of MWCC students were recognized on March 26 during the college's annual Women's Appreciation Day. The celebration capped a month-long of activities and events in celebration of Women's History Month.
For the past several years, students in Professor Susan Goldstein's Journalism I class interview and write feature articles on women who are making a difference in the lives of others. The Women's HerStory project this year recognized Michelle Brennan, volunteer coordinator, Students SOS Office, United Way Youth Venture outreach specialist; Karen Costa, adjunct professor, First Year Experience; Elaine Gagne, adjunct professor, English and Reading; Andrea Gendron, tutor; Veronica Guay, director of Dual Enrollment; Sharmese Gunn, resource specialist, Gateway to College; Debra Holloway, professor of Psychology; Heather March, professor, American Sign Language; Dr. Rosanne Morel,  professor, Early Child Education; Shelley Errington Nicholson, director of Community Learning; Dr. Carol Reed, professor, Computer Information Systems and Medical Assisting; Sarah Savoie, student services and veterans clerk; and Melissa Bourque Silva, academic advisor, Division of Access & Transition.
Their photographs and inspiring stories are on display in the South Café throughout the month.
"While it's always nice to be honored, it means even more when it comes from the students," said Nicholson, who coordinates service learning, volunteer and internships programs for MWCC's Center for Civic Learning and Community Engagement.