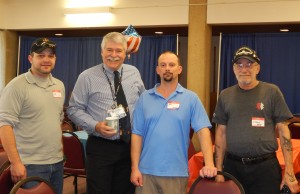 GARDNER — Mount Wachusett Community College has been designated one of the country's best two-year colleges for veterans, service members and their families in the newly released "Best for Vets 2016: Colleges" list released Monday by Military Times Media Group.
MWCC was ranked sixth among two-year schools, moving up a notch from last year.
This is the sixth consecutive year MWCC has been recognized by Military Times as a top military- and veteran-friendly college. The announcement follows recognition last week by Victory Media, which named MWCC to its 2016 list of Military Friendly schools in the country.
"I am proud that Mount Wachusett Community College continues to be recognized as one of the top schools in the country for veterans, active members of the military and their dependents," President Daniel M. Asquino said. "MWCC has a long history of serving veterans, and we're delighted to be recognized for our commitment to those who courageously serve our country. These students bring great leadership skills to our campus and, ultimately, to our workforce. They are a tremendous asset to our communities."
Long considered a haven for veterans over the past five decades, MWCC launched its Center of Excellence for Veteran Student Success in 2010 to address the unique academic, financial, social and physical needs of veterans, military personnel and military families transitioning to college life.
Student veterans are also active members of the campus community, participating in such clubs and organizations as the Veterans Group and Student Government Association.