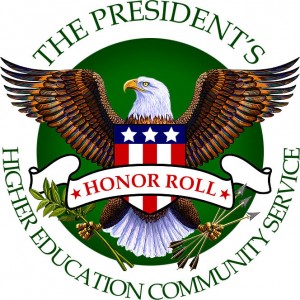 Mount Wachusett Community College has been named to the 2013 President's Higher Education Community Service Honor Roll for its strong institutional commitment to service and campus-community partnerships that produce measurable results for North Central Massachusetts.
The Honor Roll, an annual recognition since 2006, is the highest federal recognition a college or university can receive for its commitment to volunteering, service learning, and civic engagement. This year, the Corporation for National and Community Service admitted a total of 690 colleges and universities for their achievements in general community service or in one of two special focus areas which align with the president's education and innovation priorities: the Promise Neighborhoods model and early childhood education.
Combined, the Honor Roll awardees engaged 3.1 million students in community service for a total of 118 million service hours.  That's 2.5 billion dollars in value to communities across the country.
"We are delighted to be consecutively recognized with this award," said MWCC President Daniel M. Asquino. "This honor truly belongs to our students, who consistently demonstrate a willingness to go above and beyond to serve residents in our community. I am equally proud of our faculty and staff for embracing service learning and integrating it into their courses and programs."
Hundreds of MWCC students participated in service programs through the office of Student Life, the Center for Civic Learning and Community Engagement, the Division of Academic Affairs and the Center of Excellence for Veteran Student Success. 
A variety of service projects implemented by the Veterans Success Center and the Veterans Group student club were highlighted, including the Wreaths Across America project at the Winchendon Veterans Cemetery; a 9/11 commemoration; fundraisers for the Johnny Ro Veterans Memorial Park in Leominster and the Montachusett Veterans Outreach Center in Gardner; a winter clothing drive to benefit homeless veterans; and visits to public elementary schools. 
Other programs cited for their community excellence included early childhood education initiatives on sustainability and the Week of the Young Child art show through the Garrison Center for Early Childhood Education; alternative spring break service projects, including volunteering at GAAMHA in Gardner, a nonprofit organization dedicated to providing vocational training and opportunities to developmentally disabled adults; and the college's sponsorship and participation in the annual Greater Gardner Relay for Life. 
"We are fortunate to have community partners who are eager to work with our students on a variety of meaningful projects, as well as engaged faculty, staff and students who place incredible emphasis on the importance of giving back," said Fagan Forhan, MWCC's director of Experiential Learning Opportunities & Civic Engagement. "It makes our efforts to create positive community change that much more fruitful."