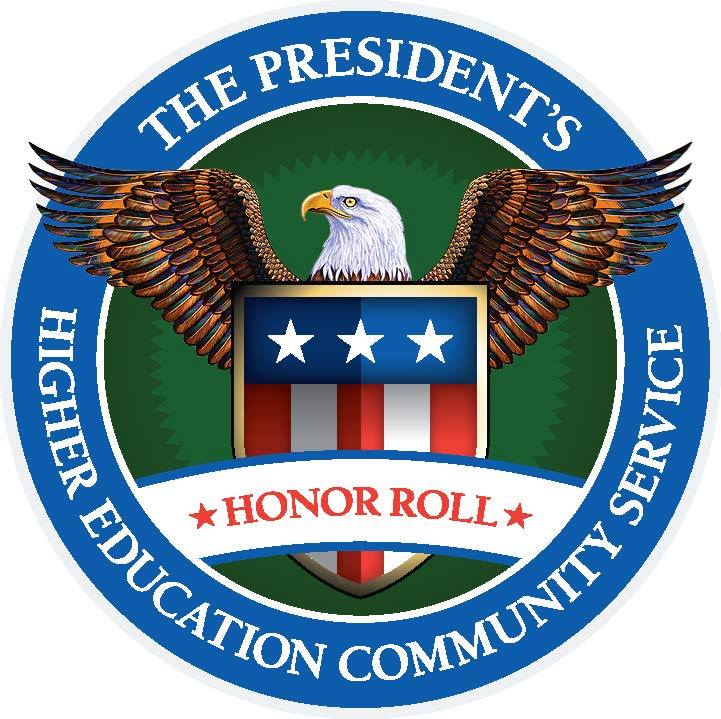 Mount Wachusett Community College has been named to the 2014 President's Higher Education Community Service Honor Roll, with distinction, for exemplary community service programs that enhance the visibility of effective practices in campus-community partnerships.
The Honor Roll's Presidential Award is the highest federal recognition an institution can receive for its commitment to community, service learning, and civic engagement. The Corporation for National and Community Service has administered the award since 2006 in collaboration with the U.S. Department of Education, the U.S. Department of Housing and Urban Development, the American Council on Education, Campus Compact, and the Interfaith Youth Core.
Mount Wachusett has been named to the honor roll every year since its inception, and twice with distinction. MWCC's efforts coordinated through its Center for Civic Learning and Community Engagement align with the Corporation for National and Community Service's strategic commitment to engage millions of college students in service.
"This annual recognition is a great source of pride for all at MWCC," said President Daniel M. Asquino. "We are dedicated to ensuring that our students receive a high-quality, well-rounded education, which includes preparing them to be active citizens. Our students consistently demonstrate a willingness to share their skills, time and talents to assist residents and organizations in our region. Our faculty and staff have done an outstanding job integrating civic engagement into their programs, and our community partners embrace these mutually beneficial opportunities to enrich our communities."
Over the past 13 years, the cumulative impact of the college's efforts throughout North Central Massachusetts has resulted in more than 220,000 hours of public service by students to a wide range of nonprofit organizations, valued at more than $4.3 million. A $2 million endowment from an anonymous benefactor in 2011 now ensures, in perpetuity, that MWCC students have every opportunity to participate in civic learning activities and gain a deeper understanding of their role within their community. The college matches the funds allocated from the endowment institutionally on an annual basis.
MWCC was cited for six exemplary service-learning initiatives coinciding with the 2012-2013 academic year. During the academic year, students contributed 144,000 hours to their communities through service learning, volunteerism, internships, practicums, co-ops and field experience.
"We're incredibly pleased to be recognized for this prestigious honor," said Center Director Fagan Forhan, who also serves as Director of Experiential Learning Opportunities & Civic Engagement under the college's division of Academic Affairs. "We have a vibrant community-engagement platform that challenges our students, faculty and staff, and area partners to work together in addressing unmet needs in the community. The reciprocal relationships we've built over the years have become pivotal in our students' educations, and we are truly grateful for the considerable time and energy that our nonprofit community puts into serving as co-educators of our students," she said.
Six service learning projects highlighted in MWCC's recognition include:
The Center of Excellence for Veteran Student Success Commonwealth Corps, which supported a grant-funded peer veteran program, which completed nearly 3,000 hours of service during a nine-month period and included coordinating campus-wide events, mentoring, collaborating with state and local veterans organizations, and fundraisers to support various programs;
The Students Serving Our Students (SOS) volunteer peer mentoring program, which connects at-risk students to trained mentors with knowledge of internal support systems and social services offered by more than 400 community partners;
The United Way Youth Venture Fall Kick Off, an annual event that offers training to children and teenagers in such areas as creative fundraising, mentorship, leadership, and team building as they launch service projects within their communities. During the 2013 event, 30 volunteers helped lead training exercises for more than 450 middle and high school students. The UWYV program is a partnership between MWCC, the United Way of North Central Massachusetts, and Ashoka Youth Venture and is administered by MWCC;
The MWCC Division of Access & Transition and the Center for Civic Learning and Community Engagement Partnership supporting the AmeriCorps Job Ready program, which provided academic tutoring and college access counseling to middle and high school students in the region. AmeriCorps Job Ready members placed with MWCC's Division of Access and Transition engaged students in career-exploration and job-readiness activities to foster increased academic success and progress toward career goals; 
The MWCC Nursing Program, in which nursing students provided timely assistance to area non-profits and social service agencies through several service learning projects, including coordinating a health fair at a local middle school and supporting the physical and emotional wellbeing of children, the elderly, homeless patients, and individuals suffering from addictions;
Free College Day, a public event held during the college's 50th anniversary celebration that provided more than 60 free workshops and classes, prizes, career and academic resources, and tours presented by student, faculty and staff volunteers.