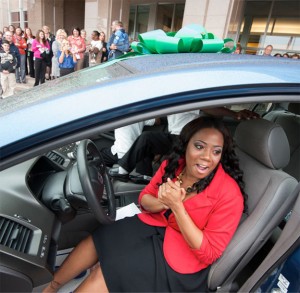 MWCC nursing student Jessica Francis won a Honda Civic on Oct. 9, courtesy of Al Brodeur's Auto Body, The Hanover Insurance Group, O'Brien & Gibbons Insurance Agency, the United Way of Central Massachusetts and other Worcester-area partners.
The donated, refurbished 2008 car was granted through the Recycled Rides program. This nationwide project was created by the National Auto Body Counsel and will make a difference in the family's life by providing a much needed source of reliable transportation. The United Way of Central Massachusetts worked with a partner agency to choose the recipient.
Through the Recycled Rides program, Hanover Insurance Group donated the vehicle, which is worth more than $10,000. The company also gave Ms.Francis a $160 gas card in honor of its 160th anniversary and a road-side assistance kit. In addition, the Worcester resident also received a year's worth of insurance for the car.
Over the past year, Ms. Francis, a single mother of two boys, has been involved with P.O.W.E.R. (Personal Opportunities for Work, Education and Renewal), an education and workforce development program of the Central Massachusetts Housing Alliance (CMHA) and funded by United Way. The program helped her to successfully apply to Mount Wachusett Community College's nursing program, which she began in September. The vehicle will provide her with transportation to and from the college.
The car was presented to Ms. Francis and her sons during an event organized in coordination with The Hanover's United Way Campaign.