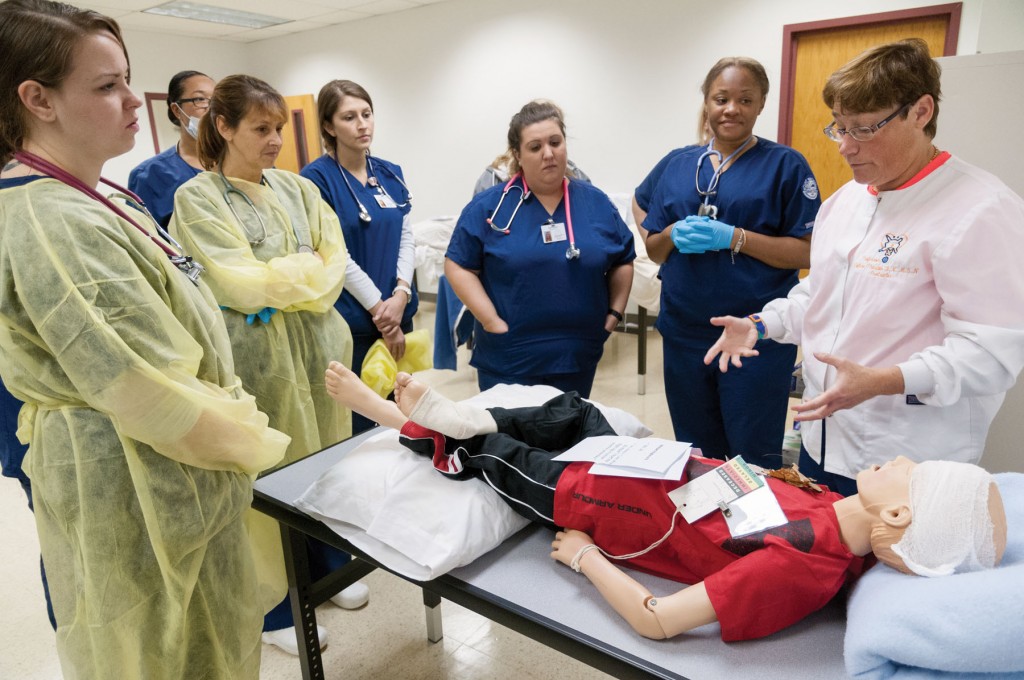 After months of preparation, teams of Mount Wachusett Community College practical nursing students tended to hospital "patients" further injured as a result of a simulated tornado.
The Nov. 7 disaster simulation at MWCC's Devens campus included five lifelike mannequins and two professors with varying afflictions, debris strewn across the floor, and tornado sound effects. Impending graduates applied skills gained through nearly two years of nursing coursework, as well as a lecture on emergency response and public health issues by Judy O'Donnell of Wachusett Medical Corps.
"We need to get students ready for disaster situations. This is the culmination of what has gone on since January," said Associate Professor of Nursing Collene Thaxton, who led two separate simulations, each consisting of a rescue and triage team. "We really stress the importance of communication in disasters because you never know what to expect."
With 15 minutes to complete the simulation, student rescue teams diagnosed and provided preliminary treatment to patients based on the severity of their injuries. Rescue teams then transported patients by stretcher to nearby triage teams for further treatment, including CPR, blood work and the dressing of wounds.
"I was nervous at first, but once I started, I got into nursing mode," said Ari-Ann Ashley, a member of the first rescue team. "I feel that now I have an idea of what to do if something like this actually happened in the real world."
"My mind was racing, but I tried to keep it together and figure out who to triage first," said Isabelle Mascary, a member of the second triage team. "I think this helps students because it puts us in a situation we haven't been in before, and we can figure out what went wrong and what we can do better."
Additional nursing students participated in disaster simulations on Nov. 14.
– Cameron Woodcock