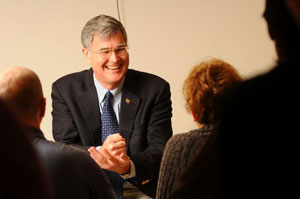 MWCC's Division of Lifelong Learning and Workforce Development is offering a leadership training seminar series for executives and professionals who are interested in an affordable, effective way to strengthen their skills. The Executive and Professional Development Seminar Series, offered at the college's Devens campus, is designed for managers and executives at companies and non-profit organizations of all sizes.
Seminar sessions include: building high performance teams on Sept. 14; planning and leading sustainable change on Sept. 28; project management skills tune-up on Oct. 12; coaching and mentoring for high performance on Oct. 26; mastering emotional intelligence on Nov. 9; winning in the marketplace on Nov. 30; and lean leadership on Dec. 7.
The seminar series is designed to meet the needs of busy executives and professionals interested in refreshing or honing skills in organizational leadership, lean management and strategic thinking, said Jeremiah Riordon, associate vice president of Lifelong Learning and Workforce Development at MWCC. "These seminars are a perfect fit for the department manager who wants to improve team productivity in a convenient format," Riordon said.
The series will be led by Dr. Michael T. Greenwood, professor of business and economics at MWCC and chair of the college's business department. Each seminar will emphasize a collaborative learning approach that promotes active, participant-centered methods.
Prior to joining MWCC in 2004, Professor Greenwood was a global marketing executive with IBM. He has more than 30 years of business and industry experience building and motivating strong teams to deliver on business plans and successful customer solutions. His executive management experience also includes collaborating in the growth and transformation of two venture-backed consulting companies, including one sold to Yahoo in 1998. He has worked with clients in the U.S., Mexico, Canada, the United Kingdom, Germany, Norway, Finland, Denmark, Sweden, Dubai UAE and France.
He also served in leadership positions with ACNielsen, the world's largest market research firm.
In addition to teaching at MWCC, Professor Greenwood serves as an adjunct graduate marketing professor at the Sawyer School of Business, Suffolk University, Fitchburg State University and Nichols College, and also led the North Central Massachusetts Chamber of Commerce's 2011-2012 Leadership Institute. He has taught graduate level market research, sales management, strategic marketing, strategic management, marketing management and retail marketing.
"Dr. Greenwood has developed leadership and management training seminars for Nypro and is by far one of the best seminar leaders I have experienced. He brings a good balance between the theoretical and the practical that can be applied on the job right away," said Angelo Sabatalo, corporate director of organizational development for Nypro University at Nypro, Inc. in Clinton.
The seminars will take place on Fridays from 8:30 a.m. to 4 p.m. at MWCC's Devens campus, 27 Jackson Road, beginning Sept. 14. The cost is $189 per person for each seminar, with group discounts available. For more information or to register, call 978-630-9575 or go online at mwcc.edu/wf.