Community event offers free workshops, door prizes and more in celebration of 50th anniversary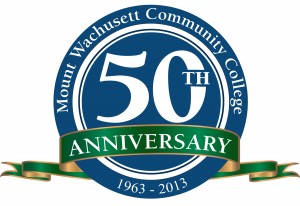 In celebration of its 50th anniversary, Mount Wachusett Community College is hosting Free College Day, an event on Saturday, April 13 featuring more than 50 free workshops and classes, 50 door prizes, career and academic resources, tours and other activities.
"In celebration of our 50th anniversary, we are opening our doors for this fun, free event as a way to thank the residents of our greater community who have either shared in our journey over the years or perhaps are just now discovering what Mount Wachusett has to offer," said college President Daniel M. Asquino, who will be leading a workshop on key ingredients for positive employee/employer relationships.
Faculty and staff from throughout the college are volunteering for the day, offering their expertise in a wide range of topics. The 45-minute workshops and classes, taking place at the Gardner campus, 444 Green Street, include computer technology; tablets and mobile devices; social media; photography; math; science; dual enrollment for teens; art; theatre; dance; music; public speaking; fitness; memoir and poetry writing; free library resources; American Sign Language; a planetarium exhibit; and more. The event is suited for learners ages 12 to adult. In addition, the MWCC Fitness & Wellness Center is offering classes from 8:15 a.m. to 12:30 p.m. in Zumba, Group Power,Group Kick, Group Ride and Group Centergy.
Participants are eligible to enter to win 50 door prizes including an iPad, Theatre at the Mount family pack tickets, Fitness and Wellness Center memberships, free credit and noncredit courses, college sweatshirts, and other items. Free College Day will also feature a resource fair offering information on enrollment, financial aid, veterans' services, the MWCC Alumni Association, lifelong learning and professional development courses, the LaChance Library, the Fitness and Wellness Center and summer kids' camps.
"Free College Day is a way for MWCC to give back to the community, bring new people to campus and showcase what we have to offer," said Professor Gail Steele, co-chair of the 50th anniversary committee.
Advance registration is required, and registrations are now being accepted. Seating in some courses is limited, so participants are advised to register early to reserve a seat. Walk in registration during Free College Day may be accepted as space allows. All participants must check in at the registration table the day of the event to receive classroom locations and door prize tickets.
For a complete list of courses and to register, call 978-630-9525, or stop by the Division of Lifelong Learning and Workforce Development, room 163.