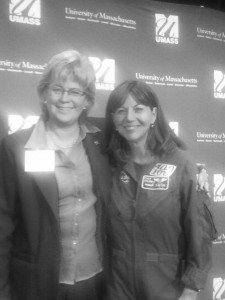 Janice Barney, dean of MWCC's School of Business, Science, Technology, and Math, joined more than 1,200 business, government and education leaders at the ninth annual Massachusetts STEM Summit to discuss science, technology, engineering and math programs that will promote STEM education from early childhood to adulthood.
The summit, hosted by the Governor's STEM Advisory Council, the Massachusetts Business Roundtable, and the UMass Donahue Institute, provided an opportunity to discuss the statewide STEM plan to prepare state residents with the skills necessary to fulfill jobs required to advance an innovative economy.
Massachusetts is frequently cited as a leader in STEM education. In March 2011, the National Governors Association Center for Best Practices, along with Innovate+Educate, a national non-profit connecting industry and education with states to advance STEM education, recognized the state as the national model for STEM initiatives.
During the conference, Dean Barney had the opportunity to meet NASA astronaut Catherine "Cady" Coleman, an alumna of UMass Amherst.