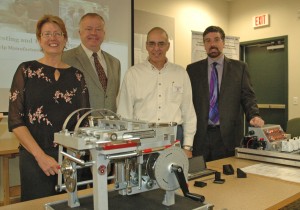 Mount Wachusett Community College is collaborating with the North Central Massachusetts Economic Development Council, the North Central Career Center, and area manufacturers to deliver customized industrial skills training designed to solve the industrial skills shortage affecting local industry. The program has been developed in cooperation with Scientific Management Techniques (SMT), Inc., the global leader in performance-based skill assessments for industry. SMT's assessment capabilities, together with their demand-driven skills training programs, are used in manufacturing and education organizations in 31 countries to solve the skills shortage and drive industrial productivity.
In celebration of National Manufacturing Day on October 5 at the North Central Massachusetts Chamber of Commerce in Fitchburg, this new partnership and an existing partnership with Nypro were highlighted.
Peter Bachert, Manufacturing Applications Engineer with SMT, Inc. showcased four performance-based assessment machines that identify and measure skills, competencies, and trainability, which will be used by MWCC, Nypro and other area businesses and organizations in assessing and training employees and students.
The second program featured focused on the plastics manufacturing degree offered at Nypro University in Clinton. Angelo Sabatalo, Corporate Director of Organizational Development and Training for Nypro University and a member of the MWCC Foundation board of directors, explained the program that is open to all individuals, and is not limited to Nypro employees. Students receive hands-on training at Nypro, and can receive a college-credit bearing Certificate from Fitchburg State University, an associate degree from MWCC, and then transfer back to Fitchburg State for a bachelor's degree in industrial maintenance. MWCC awards college credit for successful completion of master molders training, given in accordance with RJG, Inc. requirements, as part of its degree.
"Solution driven community colleges, like MWCC, have been collaborating with local industry for years to deliver targeted training that dramatically improves manufacturing workforce skills," said MWCC President Daniel M. Asquino. "By providing standardized and customizable training solutions, we will eliminate the manufacturing skills gap in our region and thereby promote economic growth and development."
David McKeehan, President and CEO of the North Central Massachusetts Chamber of Commerce, Jacqueline Belrose, vice president of lifelong learning and Workforce Development at MWCC, Robert Antonucci, President of Fitchburg State University, Angelo Sabatalo, Corporate Director of Organizational Development and Training for Nypro University, and John Harden, Economic Development Specialist for the North Central massachusetts Development Corp. also were among the featured speakers.