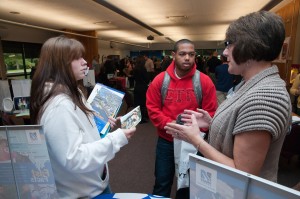 Mount Wachusett Community College recently established new transfer agreements with the University of Massachusetts, Lowell and Cambridge College and renewed two agreements with Becker College to expand transfer opportunities for students.
Under the new agreement with UMass Lowell, eligible students completing an associate degree in MWCC's criminal justice program will be admitted as juniors into the criminal justice program at UMass Lowell.
MWCC's transfer agreement with Cambridge College will allow Mount Wachusett graduates in any major to transfer easily into any bachelor's degree program at Cambridge College.
Under the new agreement, Cambridge College will accept for transfer credit the complete associate of arts and associate of science degree from Mount Wachusett graduates, and up to 90 credits overall from MWCC students.
The revised and renewed agreements with Becker College provides a seamless transfer pathway for eligible student who earn an associate degree in the early childhood education transfer program to transfer to Becker for a bachelor's degree in psychology with an early childhood concentration; and for students earning an associate degree in human services to transfer into Becker to earn a bachelor's degree in psychology.
"We are delighted to partner with UMass Lowell, Cambridge College and Becker College to expand academic options for our graduates," said MWCC President Daniel M. Asquino. "These new partnership open new opportunities for students to further their education and demonstrates our shared commitment to making quality education accessible and affordable."
Faculty shared the president's enthusiasm for the new transfer options.
"To be a successful criminal justice practitioner today, a young person is well advised to get as much education in the field as possible," said MWCC Criminal Justice Department Chair Reed Hillman, former commander of the Massachusetts State Police. "This articulation agreement with UMass Lowell will enable students to acquire their baccalaureate with an expanded level of knowledge to enable their success in both the public safety and law enforcement arenas. MWCC is thrilled to have this agreement in place to allow our graduates to realize their full potential as criminal justice professionals," Hillman said.