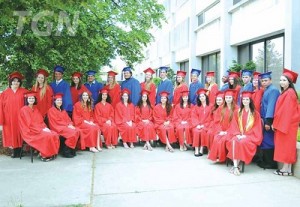 GARDNER — An Olympic hopeful, an 18-year-old transferring directly into a doctoral program, and several teenagers who are the first in their families to attend college are among the 32 graduates of Mount Wachusett Community College's dual enrollment programs.
This year's graduates of the Pathways Early College Inno­vation School and the Gateway to College program were recognized during a May 26 graduation ceremony at MWCC. The programs, offered in partnership with the Ralph C. Mahar Regional School District, allow students to use school choice funding to earn their high school diploma while simultaneously earning college credits, an academic certificate or an associate degree.
"We have all been given the amazing opportunity to get two years of college out of the way while in high school, which I am glad we all decided to take on, although challenging," said Pathways valedictorian Emily Lapinskas of Athol, who earned an associate degree from MWCC last week and will continue her studies in biology at the University of Massachusetts. "I have been assured by many parents and current students that it is indeed amazing, especially when you look at all the money we save. You're welcome, mom and dad!"
Gateway valedictorian Sam­an­tha Buckler of Winchendon was home-schooled before enrolling in the program. This fall, she is transferring to Keene State College, where she was awarded a presidential scholarship that will cover more than a year's worth of tuition, fees and housing.
"Gateway is a wonderful opportunity for students of all different backgrounds to receive a high school diploma while earning college credits," she said. "I am excited to see where life brings me as well as where it will bring everyone else who has been blessed with this opportunity."
Sarah Raulston of Baldwin­ville, who earned an associate degree in liberal arts and sciences with a concentration in biology from MWCC last week, is the youngest student to be accepted into the Doctor of Pharmacy program at the University of New England in Maine. With the first two years of the six-year program accepted as transfer credits, she is on target to graduate with a doctor of pharmacy degree by the time she is 22.
"I knew I wanted to go to pharmacy school, so I wanted to get a head start. High school is fun, but dual enrollment is such a good opportunity to get ahead," she said.
Keynote speaker Jason Zele­sky, MWCC dean of students, encouraged the graduates to "make lasting, positive change" in a world that needs their optimism, and also took a moment to address their families and friends in the audience.
"Thank you for allowing them to take this risk and complete their education in such an innovative and transformative way."
MWCC Vice President of External Affairs, Communic­ations and K-12 Partnerships Lea Ann Scales, Mahar Super­intendent Tari Thomas, and MWCC Dual Enrollment Dir­ector Craig Elkins also congratulated the students on their achievements.
Established in 2010 as one of the first two innovation schools in Massachusetts, the Pathways Early College Innovation School provides motivated high school juniors and home-schooled students the opportunity to accelerate the pace of their academics.
MWCC's Gateway to College program, established in 2005 as the first Gateway site in New England, provides a second chance for students ages 16 to 21 who have dropped out of high school, are at risk of dropping out, or experienced a setback, as well as an opportunity for home-schooled students to complete high school and college studies. MWCC's Division of Access and Transition is currently enrolling students for the fall semester.
This year's graduates include:
Pathways Early College Innovation School
Ashburnham: Sarah E. Lahtinen
Athol: Madison L. Guiffre, Emily N. Lapinskas
Baldwinville: Sarah A. Raulston Blackstone: Mary C. Volpe Clinton: Sammi Tovar
Hubbardston: Micaiah S. Bushnell Orange: Collin J. Mailloux, Nathaniel R. O'Lari
Westminster: Emily K. Ulrich Winchendon: Roger C. Anctil II, Sharon R. Rossi
Gateway to College
Ashby: Kathleen Julius
Athol: Elizabeth Zewiey
Fitchburg: Kimberly Allen, Joseph Almeida, Elisha Fernandes, Megan Rossi
Gardner: Micah Cernoia, Harley Johnston, Cynthia Lauricella, Gabriella LeBlanc
Leominster: Nicholas Chery, Annalese Chila, Hannah Conlon, Karimah Gonzalez,
Littleton: Moira Legault
Orange: Jasson Alvarado-Gomez, Kayla Pollack
Rutland: Molly Shipman Winchendon: Samantha Buckler