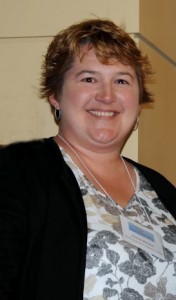 MWCC instructor Kristin Riordon has been recognized with a Course of Distinction Award from Massachusetts Colleges Online, for her online course, "Comparative Religion." Riordon, an Athol resident, received the award during the June 6 Massachusetts Colleges Online: Sharing Best Practices conference.
"The COD Awards recognize faculty from throughout the state who have developed and teach innovative and exciting online courses. These courses are representative of the best uses of eLearning instructional tools to enhance student success," said conference committee member Dr. Vincent Ialenti, dean of Academic and Institutional Technology at MWCC.
Riordon's course is well-organized, with all requirements presented in a clear and concise manner, Ialenti said. Course guidelines are highlighted in an introductory video, as well as syllabus, project and announcement folders, allowing the instructor to guide students through the week's assignments while offering flexibility for different learning styles. Riordon also presents a weekly streaming PowerPoint "audio lecture," layering her spoken words with written information and photographic images to reinforce the fundamentals presented.
Riordon acts as a facilitator and guide to her students during a comprehensive tour of the world's religions. Week by week, she presents a diverse variety of visual and auditory materials to spark student curiosity, exploration and discussion, Ialenti said. She also regularly utilizes multimedia, including short films, audio and video clips, as well as current article and posts from sources such as Films on Demand, YouTube, CNN's Belief Blog and others.
Riordon also consistently receives positive reviews for availability and support, Ialenti said. She maintains daily interaction with her students via weekly discussion board assignments, remaining attentive and responsive and energizing classroom dialogue. Riordon's course attracts an increasing number of students each semester based on positive student reviews and recommendations.