Reed Hillman, chair of Mount Wachusett Community College's Criminal Justice program, was recognized at the recent Massachusetts Colleges Online conference as MWCC's Course of Distinction award recipient for his online course "Massachusetts and the Federal System."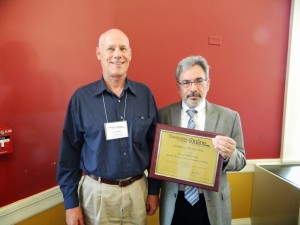 According to MWCC's Dean of Academic and Institutional Technology Vincent Ialenti, Hillman's experience as an attorney, state legislator, head of the Massachusetts State Police, and 2006 Republican party candidate for Lieutenant Governor helped him to design a course that engages students in practical assignments that confront the issues facing Massachusetts and the Federal government. For example, students analyze state budget proposals, and research current political issues to help develop an informed opinion on current issues and then advocate their positions in correspondence with elected officials.
Students' reactions to Hillman's course have been extremely positive, Ialenti said. Students have commented that the learning experience created new awareness of the complexity and importance of the state and nation's political system.
Hillman has been pleased and encouraged with his students' reactions. "Most of the students become excited about a topic that they previously found to be uninteresting," he said. "I hope that this excitement will continue long after the course. Individuals that understand the political system will be better prepared to become active and informed citizens."
The COD awards are named after the "sacred cod" located in the Massachusetts House of Representatives Chamber since 1791, paying tribute to the role of the fishing industry on state's economy, welfare, and life of its citizens. The online courses of MCO make similar 21st century contributions to the Commonwealth. This year's conference took place at Bridgewater State University.
To be eligible for a COD award, the course content must be at least 80% instructor created and not rely on textbook publisher created materials.