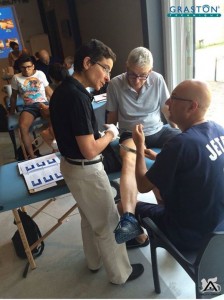 MWCC Physical Therapist Assistant students began classes this semester with an international instructor.
Professor Jackie Shakar, chair of MWCC's PTA program, spent a portion of her summer break teaching the Graston Technique to colleagues in Italy. She has been a Graston Technique instructor for over 10 years, typically teaching one seminar a month throughout the U.S. This was the first time she had the opportunity to teach in another country.
"I had a great time teaching in Italy and it was an excellent learning experience, as it was the first time that I had to use an interpreter," she said.
The Graston Technique is an instrument-assisted system of soft tissue mobilization typically used by physical therapists and their assistants, athletic trainers, occupational therapists and their assistants and chiropractors.
As a physical therapist, Shakar uses GT extensively with her patients. In her classes at MWCC, she teaches a unit on soft tissue mobilization and introduces students to the Graston Technique.
A physical therapist since 1983, Shakar has taught at the college level since 1988, including the past 20 years at MWCC. She earned a master's degree in physical therapy from Boston University in 1983 and later returned to Mass General Institute of Health Professions to receive her transitional doctoral degree.
In addition to teaching, she maintains a part-time clinical practice primarily in neuromusculoskeltal physical therapy. She currently see patients at Central Mass Physical Therapy and Wellness in West Boylston.