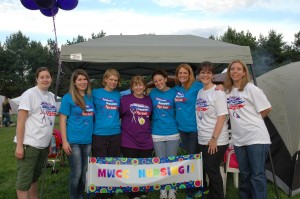 As those who participate in the Greater Gardner Relay for Life will attest, one of the most powerful moments of the entire event is the Survivor Lap. As a sea of purple shirts walk with hope around the track, one can imagine how many stories of inspiration, strength, and perseverance could be told by each of those survivors. One of those "purple shirts" has dedicated much of her time to telling her story.
After being diagnosed with breast cancer, Judy Fredette, a Winchendon resident and nursing professor at Mount Wachusett Community College, wrote Strength of Heart: An Optimistic Journey Through Breast Cancer. In her book, Fredette shares her story of cancer survival, describing her experiences through diagnosis in fall 2009, chemotherapy, radiation and recovery. The book includes many letters she wrote to her family and friends before, during and after her treatments.
Fredette shares important, useful facts about breast cancer in her book including, "Only 10 to 20 percent of breast cancer patients have a family history." She also shares some light-hearted advice and opinions. While sharing advice to newly diagnosed cancer patients, she details her journey, including all of her ups and downs. The most unique aspect of the way she presents her story is her use of positivity and humor. She believes that humor was a supportive tool in her journey. She gave chemotherapy the new name "the treatment to the cure," to give it a more positive spin.
At the beginning of her treatments, Fredette was presented with a charm bracelet from her nursing students. As she completed treatments towards her cure, she added new "empowerment beads" to the bracelet. Throughout her journey, she was not discouraged by her treatments, but empowered by the fact that they were leading her toward recovery.
After reading Fredette's book, one can clearly see how grateful she is for the support she received from her friends and family. She shares how throughout her experience her family and friends stayed with her through many of her treatments and gave her anything they could. In addition to providing care, Fredette shares how much time her family and friends spent with her, keeping her company during treatment, volunteering their time at cancer walks, and just having fun. She also describes the impact that her journey with cancer had on her family and friends, or her so-called "soldiers."
Though the content of her book is powerful and inspiring, even more inspiring is her purpose in writing it. "The purpose of sharing my story is to 'pay forward' for all that other survivors who shared their stories with me, helping me to create my own story of survival," she said. She aspires to share her story with any person she meets who is newly diagnosed with cancer, by giving them each a copy of her book. "I have learned how important it is to share my experience with others. If you know anyone who is newly diagnosed or struggling with the diagnosis of cancer…please give them my name," she said. Though her original intent was for her book to be shared with newly diagnosed cancer patients, her positivity and strength is an inspiration to all.
In her book, Fredette refers to a story she received from her students called "The Pearl," which truly represents the lifestyle she chose to live with while fighting cancer. "Just like the pearl," the story states, "we can be inspired to take action in our own lives to create beauty and hope out of times that are traumatic and painful. We can create something strong that will be admired by all we let see it, for the depth of its many layers-the beauty of its strength. We can transform what life brings us and use it to move forward with wisdom and grace."
Fredette has donated copies of her book to the LaChance Library at Mount Wachusett Community College, the Beals Memorial Library in Winchendon, and the Fitchburg Public Library. Her book also is available at Barnes and Noble and Amazon.
Members of the MWCC community joined thousands of others participating in the Greater Gardner Relay for Life 24-hour walk to benefit the American Cancer Society on June 8 and 9 on the college's track. The MWCC-Fitness Center Relay for Life team, chaired by English Professor Susan Goldstein and Vice President of Finance and Administration Bob LaBonte, saw overwhelming support from the college community, with coverage for all 24-hours of the walk. The team sponsored a "1 oz. of cancer prevention" fundraiser at the college's tent, offering healthy snacks for a donation. The Gardner Relay has raised more than $10 million for cancer research over the past 19 years and is the largest relay in New England and one of the largest in the U.S.
 – Hillary Jaillet