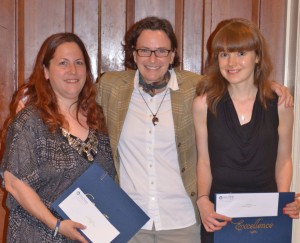 Mount Wachusett Community College has been awarded a National Endowment for the Humanities (NEH) Challenge Grant in the amount of $500,000 to endow the "MWCC Humanities Initiative" to deepen and sustain quality humanities programming and curriculum in North Central Massachusetts. The grant will be matched by $1 million raised by the MWCC Foundation, Inc. in a fundraising campaign to endow this project over the next six years.
The purpose of the endowment is to support collaborative and interdisciplinary teaching and research in the humanities and to engage MWCC students and residents in the North Central Massachusetts region studies and discussions of enduring themes and ideas from the world's rich cultural and intellectual traditions. The endowment will fund common annual themes to be integrated across campus curricula and woven into campus and community humanities programming.
"Federal support from entities like the National Endowment for the Humanities is playing a critical role in the preservation and promotion of our national identity and civic engagement in America," said Congresswoman Niki Tsongas. "Like many of the other great academic institutions here in the Third District, Mount Wachusett isn't just teaching students, but is preparing them to play an active role in the national conversation," she said.
"We are extremely excited with this opportunity to enhance our ability to serve students and the community by instilling an appreciation for the humanities and civic engagement within our curriculum," said President Daniel M. Asquino. "We are looking forward to raising the required match which will endow this initiative into the future."
NEH grants are highly competitive and are awarded to recipients representing the highest level of humanities research and public engagement. The award MWCC received through the work of the college's Institutional Advancement office, as well as faculty and staff, was part of $33 million in grants NEH awarded in July to 173 widely varying humanities projects. Fourteen grants totaling $3.7 million were awarded to organizations in Massachusetts, including Harvard University; Boston University; Massachusetts Institute of Technology; Mount Holyoke College, Worcester Polytechnic Institute, the Massachusetts Historical Society; and the Worcester Art Museum.
"Receiving a grant from NEH I believe clearly illustrates the continued commitment for the humanities by our faculty and institution," said Dr. Stephen Grieco, Dean of the School of Liberal Arts, Education, Humanities & Communications. "Students often take classes that focus on specific skills for a particular career path. However, studying the humanities, and the lessons learned, teaches students important life skills that are highly transferable regardless of their career goals. This grant will help strengthen those opportunities for lifelong learning through the humanities," he said.
"This grant has the potential to affect real change, to bring public lectures, book discussions, international films and more to the greater Gardner region," said English Professor Michelle Valois, project coordinator and chair of the department of Liberal Arts & General Studies. "In a time when there is so much emphasis on workplace development, it's a welcomed change of perspective, one where the whole student is educated, exposed to the arts, taught to think critically about themselves and their world."
Over the past year and a half, MWCC has administered an intensive planning process to analyze and develop a strategic plan for the future direction of the humanities at the college. This planning process brought together more than 30 humanities faculty and staff, as well as community members, to participate in focused discussions and planning sessions to direct the vision and future direction of the humanities at MWCC. The Center for Civic Learning and Community Engagement will play a significant role in the initiative, as it directly connects to responding to community needs and stimulating civic vitality.
Four faculty co-chairs, representing history, literature, languages, comparative religion, philosophy or anthropology, will be appointed annually to direct activities.