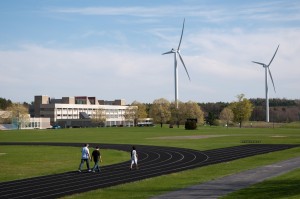 Mount Wachusett Community College has received the gold Circle of Excellence Award from the Council for the Advancement and Support of Education (CASE) in the Public Relations and Community Relations category for the multi-faceted "Catch the Wind at MWCC" communications project.
The communications effort highlighted the activation and dedication of MWCC's two 1.65 MW wind turbines, as well as the college's decade-long commitment to renewable energy and energy conservation; sustainability awards received from state and national agencies for the wind project; and leadership role in the national campus climate commitment movement.
Further, the effort showcased MWCC's integral role in the Massachusetts "Leading by Example – Clean Energy and Efficient Buildings" program.
The story of MWCC's wind energy initiative became an integrated, cross-college concept, sparking excitement and interest throughout the campus and involving the Marketing & Communications Division, the President's Office, Institutional Advancement, Facilities Management, Media Services, Student Life, faculty, students and student clubs. The project combined in-house communications efforts in the areas of public relations, social media, website, and photography with service-learning projects for students majoring in Computer Graphic Design and Broadcasting and Electronic Media.
Aspects of the project included ongoing media relations; graphic design projects for signage, banners, turbine pride t-shirts sold to raise funds for student scholarships, and a car wrap; social media projects including posts to Facebook, YouTube and the college's Green on Green Street blog; video projects and photography. The project also created opportunities for others. For example, key state agencies, Congressman John Olver, and environmental organizations such as the U.S Department of Energy, posted news and videos on their own websites, blogs and Facebook pages.
"This gold recognition is a great tribute to everyone at the college for stepping up to the challenge of incorporating new ways to communicate and bring greater visibility to our college," said President Daniel M. Asquino. "The wind project was a complex one, with many other sustainability efforts being implemented at the same time. Our communications team did an outstanding job of building a campaign that tied all these efforts together, and bringing not only local, but national recognition to Mount Wachusett Community College."
Robin Duncan, MWCC Vice President of Marketing & Communications commented, "I am very fortunate to work with a great group of people, and I am especially proud of this recognition as it truly showcases the diverse and cutting-edge talents among team members. This project was a collaborative college-wide effort and the communications strategy was a successful one. That's what we do, here in our office – spread the good word about Mount Wachusett Community College! But it's nice to be acknowledged by our colleagues for doing our jobs well, across all kinds of media – traditional and new."
Advancement professionals from a number of higher education institutions, including Columbia University, Dartmouth College, Mount Holyoke College, Rutgers, Seton Hall University and Tulane University, served as judges in a wide range of categories for the 2012 CASE awards, which focused on work completed in 2011. MWCC joined silver award winner Duke University and bronze award winner Thomas More College as the top winners in the PR/Community Relations category.
CASE is an international professional association serving educational institutions and the advancement professionals who work on their behalf in alumni relations, communications, development, marketing and allied areas. CASE helps its members build stronger relationships with their alumni and donors, raise funds for campus projects, produce recruitment materials, market their institutions to prospective students, diversify the profession, and foster public support of education. The Circle of Excellence awards celebrate programs that measure up to high standards, contribute to a growing body of knowledge and add substance and insight to the profession and its practitioners.