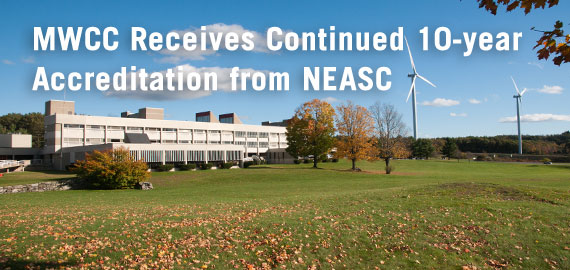 Mount Wachusett Community College has earned continued 10-year accreditation from the New England Association of Schools and Colleges (NEASC), which commended the institution for its "extraordinary commitment" to students and the region, "entrepreneurial spirit," and dedication to learning and civic engagement under the leadership of President Daniel M. Asquino and an active and committed board of trustees.
In its report, the evaluation team determined that MWCC is meeting its mission of teaching and learning excellence, building on students' potential for success, maintaining a supportive learning environment, responding to the community with relevant and quality programs, and instilling in students a sense of civic responsibility.
"This is an outstanding report from NEASC and is a testament to the hard work and dedication of our faculty and staff to our students and our community," MWCC President Daniel M. Asquino said. "We are proud and delighted that NEASC has granted Mount Wachusett accreditation for another decade. The commission commended us for a well written and candid self-study, our excellent inclusive and comprehensive planning model, and for the great support we receive from our trustees, foundation board members, and the community at large."
In a letter to President Asquino, NEASC Chair Richard L. Pattenaude noted that the college has made an extraordinary commitment to develop and maintain programs that are needed in the region and that are desired by the students. Pattenaude praised the college for its "highly committed and dedicated" faculty; data-driven strategic planning; financial strength and fiscal prudence; comprehensive, diverse student life programs; robust library; energy conservation and sustainability efforts; and partnerships with area high schools and other colleges and universities.
"With its dedicated faculty and staff, prudent resource management, and capable senior leadership team, the College is well positioned for future success," Pattenaude wrote.
In its report, the evaluation team noted, "While developing and maintaining its core transfer and career programs and fostering student academic excellence and civic engagement, MWCC has also reached out to serve the needs of a changing community. Through aggressive grant pursuit, friend and fund raising, MWCC has been able to respond to new workforce opportunities, to a growing immigrant population, and to high school population to build aspiration and skills."
"In a time of economic constraints from public funding, the College has also managed to develop a thoughtful planning and assessment model that permeates all levels of activity. Mount Wachusett, fondly referred to by faculty, students, and community members as 'the Mount," in  many ways exemplifies the best of the entrepreneurial spirit it takes to assure the community college focus of access is truly accomplished," the report states.
MWCC has been accredited by NEASC since 1968 and was last reviewed in 2002. Its accreditation by NEASC encompasses the entire institution. NEASC is a non-governmental, nationally recognized organization whose affiliated institutions include elementary schools through collegiate institutions offering post-graduate instruction.
The college will submit a five-year interim report in 2017. NEASC has scheduled MWCC's next comprehensive evaluation for spring 2022.
The five year written report will focus on progress in the areas of communicating the college's mission, vision and values; expanded engagement of part-time faculty in the assessment of student learning outcomes, and the renovation of the Gardner campus, which was built in 1974. Earlier this year, the Patrick Administration announced $37.9 million in funding to build a new science and technology wing and renovate existing space on the main campus.
In April, the college underwent a comprehensive evaluation visit by a team representing NEASC's Commission on Institutions of Higher Education. The site visit followed a year and a half of self-study by university faculty, administrators, staff and students addressing the commission's 11 standards for accreditation.
The Commission on Institutions of Higher Education is one of seven accrediting commissions in the United States that provide institutional accreditation on a regional basis. Accreditation is voluntary and applies to the institution as a whole. The Commission, which is recognized by the U.S. Department of Education, accredits approximately 240 institutions in the six-state New England region.
Accreditation of an institution indicates it meets or exceeds criteria for the assessment of institutional quality. An accredited school is one that has the necessary resources available to achieve its stated purposes through appropriate educational programs.
Pattenaude's entire letter to President Asquino and the NEASC report can be viewed on the college's accreditation web page.