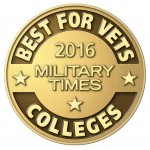 Mount Wachusett Community College has been designated one of the country's best two-year colleges for veterans, service members and their families in the newly released Best for Vets 2016: Colleges list released Nov. 9 by Military Times Media Group.
MWCC ranked sixth among two-year schools, moving up a notch from last year. This is the sixth consecutive year MWCC has been recognized by Military Times as a top military and veteran friendly college. The announcement follows recognition last week by Victory Media, which named MWCC to its 2016 list of Military Friendly schools in the country.
"I am proud that Mount Wachusett Community College continues to be recognized as one of the top schools in the country for veterans, active members of the military and their dependents," said President Daniel M. Asquino. "MWCC has a long history of serving veterans, and we're delighted to be recognized for our commitment to those who courageously serve our country. These students bring great leadership skills to our campus and ultimately to our workforce. They are a tremendous asset to our communities."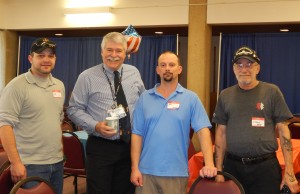 Long considered a haven for veterans over the past five decades, MWCC launched its Center of Excellence for Veteran Student Success in 2010 to address the unique academic, financial, social and physical needs of veterans, military personnel and military families transitioning to college life. Student veterans are also active members of the campus community, participating in such clubs and organizations as the Veterans Group and Student Government Association.In August 2013, MWCC became one of the first 250 higher-education institutions to implement President Obama's "8 Keys to Success" initiative to help boost academic opportunities and improvement employment outcomes for veterans.MWCC maintains community partnerships with the Montachusett Veteran Outreach Center, the Northeast Veteran Training & Rehabilitation Center operated by Veteran Homestead, Inc., the Massachusetts Department of Veterans Services' SAVE program, and local posts of the Veterans of Foreign Wars and the American Legion.The Best for Vets 2016 list is an independent news project that evaluates organizations based on their support systems and campus cultures to provide a reference point for service members, military veterans and their families. In order be considered for the rankings, MWCC and other colleges documented these services in an extensive 150-question survey. More than 600 colleges participated this year.
"It's been amazing to witness how colleges all across higher education have embraced service members and their families," said Amanda Miller, editor of Military Times' Best for Vets rankings and special editions. "Over the past six years of our surveys, we've seen so many schools first begin to foster – through new policies, services and dedicated facilities – and then nurture these wonderful communities. We award the Best for Vets designation to the very best – the colleges that really are setting the example," Miller said.
The rankings are published in current issues of Army Times, Navy Times, Air Force Times and Marine Corps Times and online at MilitaryTimes.com, as well as ArmyTimes.com, NavyTimes.com, AirForceTimes.com and MarineCorpsTimes.com.
For the full Best for Vets: Colleges 2016 rankings, go to: www.militarytimes.com/bestforvets-colleges2016.