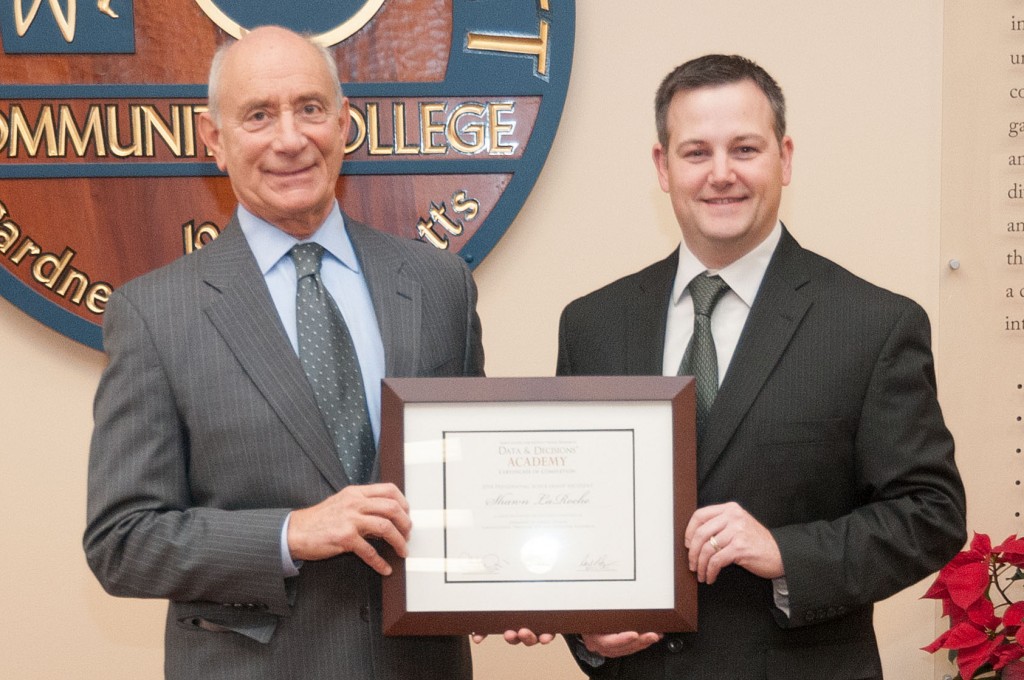 Mount Wachusett Community College Research Analyst Shawn LaRoche recently earned a certificate of completion from the Association of Institutional Research's Data and Decisions Academy. MWCC President Daniel M. Asquino nominated LaRoche for the academy's Presidential Scholarship.
The online, self-paced program for institutional-research professionals at two-year schools builds practical skills to enhance data-informed decision making in higher education, which in turn supports MWCC's vision of a diverse, adaptive community of lifelong learners.
LaRoche was identified by President Asquino as an exemplary employee whose ascension could be further accelerated through specialized training. In this program, LaRoche completed courses in Longitudinal Tracking for Institutional Research and Survey Design.
"The need for skilled institutional research professionals has greatly intensified as data increasingly drives our strategic-planning efforts, which aim to help students succeed," said President Asquino. "Shawn has emerged as a vital part of this process at MWCC, and we are glad we could nominate him for this professional development  opportunity."
Leveraging his 12 years of prior experience in data collection and analysis, LaRoche completes the majority of MWCC's external reports and provides administration and faculty with actionable and timely information.
"The skills I gained in the courses have already paid dividends in a number of projects, including research related to student progression through developmental education," he said. "I am also more prepared for conducting larger-scale surveys thanks to the practical experience I gained in the courses. Advancing my skills in these areas is not only a benefit for me but for everyone at MWCC. I am grateful to President Asquino for his support of my participation in the program."
In his spare time, LaRoche coaches Barre youth soccer and baseball, and serves as treasurer for Barre youth baseball.
Initial funding for the Data and Decisions Academy is made possible by a $1.92 million grant from Lumina Foundation for Education. The Association of Institutional Research, which hosts the academy, is based in Tallahassee, Florida.