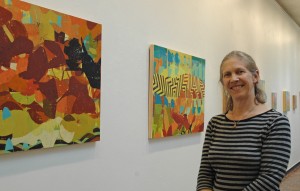 Area high school art educators and their advanced art students are invited to participate in Mount Wachusett Community College's annual high school art collaborative workshops this spring. The free workshops are sponsored by the college's Art Department.
A collage workshop with artist and educator Joyce Conlon will take place Wednesday, March 27 from 3:45 to 6:45 p.m. Collage is a playful and inexpensive medium for teaching design principles, illustration, abstraction and color. Participants will experiment with different papers, glues and acrylics. The workshop will include a brief presentation, historical and contemporary examples and studio time. All materials will be provided, although participants are welcome to bring in photographs and other paper collage materials.
A printmaking workshop will be led by artist and educator Susan Montgomery on Wednesday, April 24 from 3:45 to 6:45 p.m. The workshop will provide an artist's approach to water-based print-making techniques ideal for the high school and middle school classroom. Materials, techniques, monotypes, hand printing and use of the printing press will be discussed. The workshop will include demonstrations, different approaches and projects and time to experiment with the methods.
Registration is required and requested by March 15. To register, high school art teachers may contact Professor Joyce Miller at jmiller@mwcc.mass.edu or 978-630-9221.