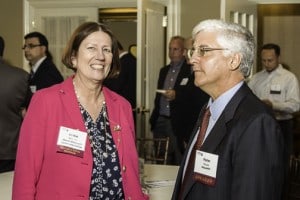 Mount Wachusett Community College served as the presenting sponsor of the Worcester Business Journal's Manufacturing Summit and inaugural Manufacturing Excellence Awards ceremony on April 26 at Cyprian Keyes in Boylston.
President Daniel Asquino, Vice Presidents Jacqueline Belrose and Lea Ann Scales, and members of the college's workforce development team were among the attendees. The event featured a keynote address by Massachusetts Secretary of Housing and Economic Development Jay Ash and a panel presentation moderated by MassMEP Growth and Inovation Program Manager Peter Russo.
Secretary Ash praised the state's community colleges for their leadership in creating innovative partnerships as well as their role in the Commonwealth economic development strategic plan, Making Massachusetts Great Everywhere, which was released by the Baker-Polito Administration in December.
"We're very excited, espcially at the community college level, with the reaction that we have received," he said.
The industry support and feedback has been a crucial component of MWCC's design and creation of  advanced manufacturing training programs developed under President Asquino's leadership, Belrose said during her welcoming remarks.
College initiatives include the creation of an academic certificate and associates degree program in Plastics Technology Manufacturing, offered over the past two decades at Nypro University in Clinton in partnership with Fitchburg State University; helping regional companies secure more than $6.5 million in state Workforce Training Fund grant; and working with MassMEP, the Workforce Investment Boards, state colleges and universities and other partners on state and federally-funded programs to provide unemployed and underemployed individuals with training to secure good jobs with benefits, she said.
"The key here is regional economic growth," Belrose said. "All stakeholders in this region need to join forces to ensure we work together to supply a skilled advanced manufacturing workforce. We need to sustain, grow, and integrate efforts that Mount Wachusett and Quinsigamond Community Colleges, along with Mass MEP have been developing with the help of employer, state, and federal funding.  The approach must be integrated and scalable and will benefit from dialogues such as the one we are having today."