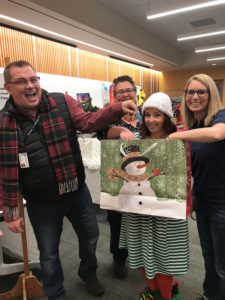 Mount Wachusett Community College's staff will be holding the annual Winterfest gift basket and wreath raffle on December 5 and 6 to benefit the college's Emergency Student Loan Fund that helps students buy textbooks, food, bus passes, gas and pay for other daily expenses.
Winterfest will be held at the college's Gardner campus from 9 a.m. to 6 p.m. on Wednesday, December 5 and 9 a.m. to 3 p.m. on Thursday, December 6. Everything will be located in the commons, the main hallway outside the President's office, and in the adjacent Multipurpose Room.
Baskets contain items purchased through donations from MWCC faculty and staff as well as donations directly from local businesses who see the value in supporting MWCC students who are not just their customers but potentially future workers. Clubs are decorating wreaths to be raffled off with a number of them having an assortment of gift cards and scratch tickets on them.
The public is encouraged to come to campus and join in on the fun. Even if you only have time to pop over during lunch, Winterfest allows you to not only bid on the collected baskets and wreaths, but also access the 21 vendors selling jewelry, candles, primitive décor, hand-sewn and crochet items, homemade soaps, books, clothing and more. In half an hour you can get plenty of holiday shopping done.
Last year's Winterfest event raised over $4,000 for student scholarships.