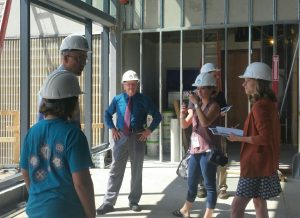 Walls are up and windows are going in at the new student center at Mount Wachusett Community College this week.
The $3.5 million project will create a 4,500-square-foot student space, which officials say will open by the start of the school year in September.
"An overwhelming majority of our students come here and spend the better part of their day here," Dean of Students Jason Zelesky said. "There's no comfortable, cozy recreation space for them to hang out in."
The addition, called the Bemis Student Center, will include a study area, a "living room" with a hearth, an outdoor patio and vending machines.
Students will be able bring or rent from the college video game consoles to play on the two televisions.
"This is something our students specifically asked for," Zelesky said.
The tables in the room will have built-in plugs, so students can easily charge laptops and other devices, he said.
Student service offices will be moved into new spaces off the student center as will campus police.
"We're bringing student services and life together," Zelesky said.
The space is being built on the footprint of a rarely used former plaza outside the Haley Academic Center.
"We also called it the prison yard," he said. "No students would hang out here."
The paved area allowed water to leak into offices below and caused problems with heating and cooling systems in adjoining parts of the building, according to Zelesky and Associate Vice President of Facilities Jon Wyman.
Zelesky said the project will fix these issues.
The expansion is the first construction collaboration between a community college and the Massachusetts State College Building Authority in the state, according to Zelesky.
Of the total cost, the college will pay for $2.3 million through a 20-year loan. Bemis Associates Inc., a Shirley company, donated $500,000 to the project and the state Division of Capital Asset Management and Maintenance funded the remaining $700,000.
Erland Construction, a Burlington company, started the project in mid-May and plans to complete it within a hundred days.
The quick summer turnaround means students won't be disrupted by the construction, Communications Specialist Sam Bonacci said.
"It was done to ensure there is minimal impact on the students," he said.
The plan for the project was developed under the administration of former college President Daniel Asquino, who also oversaw the construction of the new science center that opened last September.