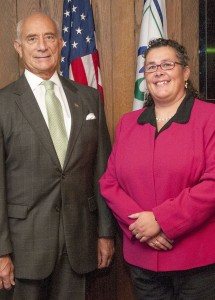 Mount Wachusett Community College student leader Kathy Matson of Baldwinville has been appointed to the Massachusetts Board of Higher Education for the 2013-2014 academic year.
A Business Administration major and president of MWCC's Student Government Association, Matson previously earned an associate degree in Criminal Justice from the college in 1985. She returned last year to pursue a business degree to combine her interests in these two fields.
She is looking forward to the upcoming year representing all Massachusetts public higher education students on the board. The issues of affordability and student success are among her key priorities.
"I am honored to serve on the board," Matson said. "I come from many different perspectives.  I was here as a new student out of high school and now as an adult returning to college, and I'm the mother of students who came to college out of high school. I feel that I can be a voice for students and bring a lot to the position because of my varied life experiences."
President Daniel M. Asquino described Matson as a motivated, enthusiastic leader who cares deeply for her fellow students and is committed to community service. "Kathy is making a tremendous difference in the lives of students and residents of our area through her active participation on campus and in the community," Asquino said. "Being appointed to the Board of Higher Education is a wonderful achievement for her and I'm certain she will serve the Commonwealth of Massachusetts, and its students, quite admirably."
At MWCC, Matson serves as president of the Alpha Beta Gamma business honor society, vice president of civic engagement and community service for the Phi Theta Kappa honor society, as a student ambassador for the college, and as a mentor in the Students Serving Our Students (SOS) office. She is also a member of the state-wide public higher education Student Advisory Council.
In July, she traveled to Washington, DC to take part in a Student Voices Conference as the Massachusetts representative for the Board of Higher Education. At this conference, 17 students from across the country met with U.S. Secretary of Education Arne Duncan to discuss ideas and concerns regarding higher education. Much of the discussion focused on the costs associated with higher education and ways in which the Department of Education can boost student retention and graduation rates, along with suggestions on providing better financial literacy education to high school students to aid them in choosing an education that meets their needs as well as their budget.
At the conference, Matson joined a wide range of students including young adults attending college for the first time, veterans seeking a college degree after service in the military, and older adults returning to college to complete a degree or enter a new career.  The conference was organized by State Higher Education Executive Officers (SHEEO), in conjunction with the U.S. Department of Higher Education to include students in the policy making process. The student leaders plan to meet via conference calls and email throughout the year to continue to ensure student voices are presented at the federal level.
Matson and her husband Calvin have three sons: Isaac, 23, who graduated from MWCC in 2012 with a degree in Criminal Justice, served as SGA president and is now completing a bachelor's degree in Criminal Justice at Westfield State University; Caleb, 20, a Criminal Justice major at MWCC and a member of the ROTC program; and Zechariah is 18, a Fire Science major at MWCC who is also in the ROTC.
Matson previously worked within the Criminal Justice field in private security and as and an administrative assistant for Digital Equipment.  She works part-time at the MWCC bookstore and for Gold Medal Bakery as a sales representative for Stop and Shop.