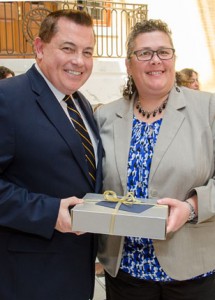 The Massachusetts Department of Higher Education kicked off the 2014 commencement season on May 8 by recognizing recipients of the 29 Who Shine award. The annual ceremony at the State House honors one graduate from each community college, state university and University of Massachusetts campus for their academic achievements and civic contributions to the Commonwealth.
MWCC Business Administration Major Kathleen A. Matson, who has served this academic year as the student representative on the state Board of Higher Education, was among the recipients. Matson also serves as president of the college's Student Government Association and holds numerous other leadership positions in campus organizations.
"The 29 Who Shine represent the best and the brightest of our public higher education system," said Secretary of Education Matthew Malone. "I'm inspired by how these graduates are giving back to their communities and at the same, for many, also working full time to support their families. And even with all they have going on these students achieved high academic honors. These are the types of people who you want as your neighbor and I'm very proud of each of them."
Each of Massachusetts' 29 public college and university campuses selected its own honoree for the 29 Who Shine awards based on criteria established by the Massachusetts Department of Higher Education.
"Our public college and university graduates are 'here to learn and here to stay,'" said Richard M. Freeland, Commissioner of Higher Education. "These outstanding individuals are citizens of the state who plan to build their lives and livelihoods here in Massachusetts. They have delivered a big return on the taxpayers' investment in their education and we are delighted to honor their achievements."
The ceremony also included recognition of each honorees' faculty or staff mentor. Matson selected Associate Dean of Students Gregory Clement as her mentor. Singer-songwriter Whitney Doucet, a 2013 graduate of MWCC, also represented the college with her performance of "America the Beautiful" during the ceremony.
Additionally, publishers of most daily newspapers across the state have donated full or half-page advertisements to honor the students as a group on May 8. Central Massachusetts of the 29 Who Shine Publishers Campaign include The Gardner News, The Sentinel and Enterprise and the Worcester Telegram & Gazette.