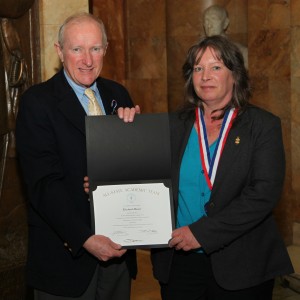 Mount Wachusett Community College student leaders Elizabeth Reiser and Karen Duchnowski were honored as members of the All-Massachusetts Academic Team during a recognition ceremony at the State House on April 17. The Phi Theta Kappa honor society, community college presidents and the Massachusetts Community College Association sponsored the event.
Reiser, a Gardner resident, is president of the MWCC's Phi Delta chapter of the Phi Theta Kappa international honor society and has chaired several fundraisers and food drives for local charities. She serves as a volunteer tutor for criminal justice, a volunteer student mentor with the college's Students Serving Our Students program, and as a volunteer alumni and student ambassador at the Office of Admissions. Reiser was included in "Who's Who Among American Colleges and Universities" in 2012 and 2013 and volunteers at "Cooking Matters," a healthy cooking program for low income local residents.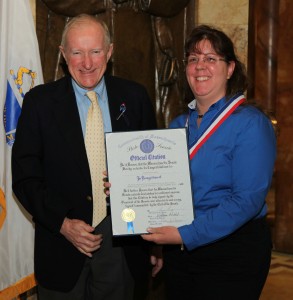 Duchnowski, a resident of Athol, is also active with Phi Theta Kappa as well as the Girl Scouts of America.  She was a scout leader for four years, received the Volunteer of Excellence Award and was the Service Unit Cookie manager for three years. Duchnowski also served this past fall as vice president of the Alpha Beta Gamma business honor society.