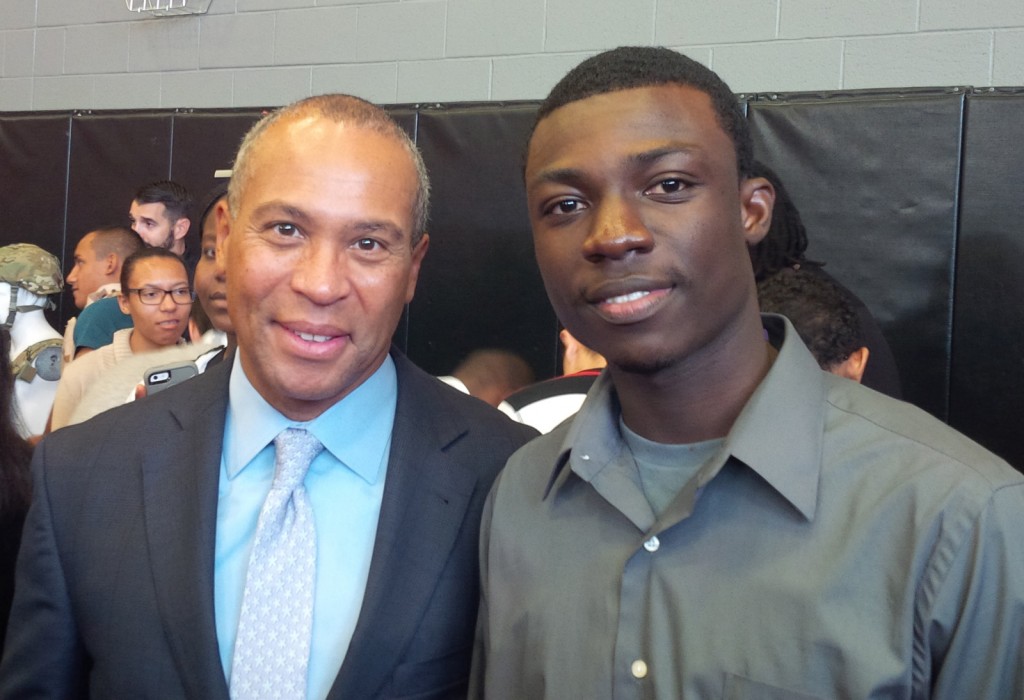 Mount Wachusett Community College pre-engineering and Honors Program student Louis Ayisi delivered one of six student speeches to a large assembly at the Massachusetts Department of Higher Education "Go Public!" event held Oct 15 at Worcester's North High School. With Governor Deval Patrick and Secretary of Education Matthew Malone on hand, Ayisi helped showcase MWCC to 350 high school seniors from Worcester's North, South and Burncoat high schools."Go Public!" brings together impending graduates at high schools throughout the state, promoting science, technology, engineering and math (STEM) programs and the merits of an education at one of the Commonwealth's 29 public campuses.
Ayisi, who emigrated from Ghana to the United States seven months ago, has found his niche at MWCC and in North Central Massachusetts. Two semesters into his college education, he has maintained a 4.0 GPA while also volunteering as a math tutor at the Boys & Girls Club of Fitchburg and Leominster.
"Your past is an experience, and today is an experiment. So use your past in your experiment to achieve your expectation," he said, while detailing his personal, academic and community-engagement experiences over the last seven months.
Following his speech, Ayisi joined MWCC admissions representatives at the subsequent college fair, which also featured demonstrations of STEM-related subjects. Additional student speakers represented UMass Medical School, UMass Lowell, Quinsigamond Community College, Fitchburg State University and Worcester State University.
The event was co-sponsored by the Massachusetts Department of Higher Education and GEAR UP, a federally funded program providing early-college awareness activities to more than 7,000 students in seven high-poverty districts.
– Cameron Woodcock