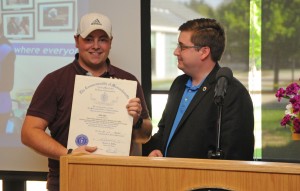 "We make magic every single day here at Mount Wachusett Community College and a big part of that magic is civic engagement," President Daniel Asquino announced to an exuberant gathering of students, faculty and community members during the college's annual Service Learning & Volunteer Celebration.
"Giving back to the community has been a cornerstone of a Mount Wachusett Community College education for nearly two decades," he said.
The event, hosted May 19 by the Center for Civic Learning and Community Engagement, recognized a wide range of campus and community service learning and volunteer initiatives throughout the academic year. Over the course of the year, MWCC students completed 25,777 hours of service to the community valued at more than $533,000 dollars, said Fagan Forhan, Director of Experiential Learning Opportunities and Civic Engagement, and the director of the Center.
Under the leadership of President Asquino, "MWCC is leading the charge of civic engagement and service learning," locally, in the Commonwealth and nationally, Forhan said. More than 80 students were recognized this year with the President's Service and Volunteerism Award.
State Representative Jon Zlotnik presented legislative citations to John Day, who received the national Newman Civic Fellow Award from Campus Compact, and Student Trustee Phillip Stan, who was named one of 150 Coca Cola Scholars in the country this year by the Coca Cola Foundation.
Habitat for Humanity of North Central Massachusetts received the Community Partner of the Year Award in recognition of many years of dedicated service to the community and to the college's students. Habitat has served as a host site for the college's alternative spring break, and summer leadership camp, and also has hosted service learning students, interns and student volunteers.
Service learning scholarships were presented to Julianne Hutchins, for her work teaching diabetic children how to snowboard, and to Lori Belliveau, who completed 161 hours of service during a January trip to Haiti with the nonprofit organization Forward in Health.
MWCC's chapter of the Phi Theta Kappa honor society with the Above and Beyond Award for setting a new record with its annual Project Graduation food drive. Between hosting a character breakfast for the community and other fundraising efforts this spring, PTK raised more than $3,400 to benefit the Gardner and Winchendon Community Action Councils, and the Students SOS office.
Graduating student Yasmine Kanaan & alumna Tiffianie LeBlanc presented the Civic Engagement Career Achievement Recognition to retiring professors Joel Anderson of the Media Arts & Technology Department, and John Reilly of the Business Department.
Lauren Mountain, Associate Director of United Way Youth Venture, presented MWCC Changemakers recognition to student participating in the community service program. This year, more than 60 MWCC student participated in community ventures.
Student Government Association member Cathy Teague, who will serve on campus next year as the 2015-2016 AmeriCorps*VISTA, congratulated her peers, and encouraged the graduating and continuing students to remain committed to serving others.
"Every one of you are here because you made a difference, no matter how big or how small. No act of kindness or generosity is ever wasted."