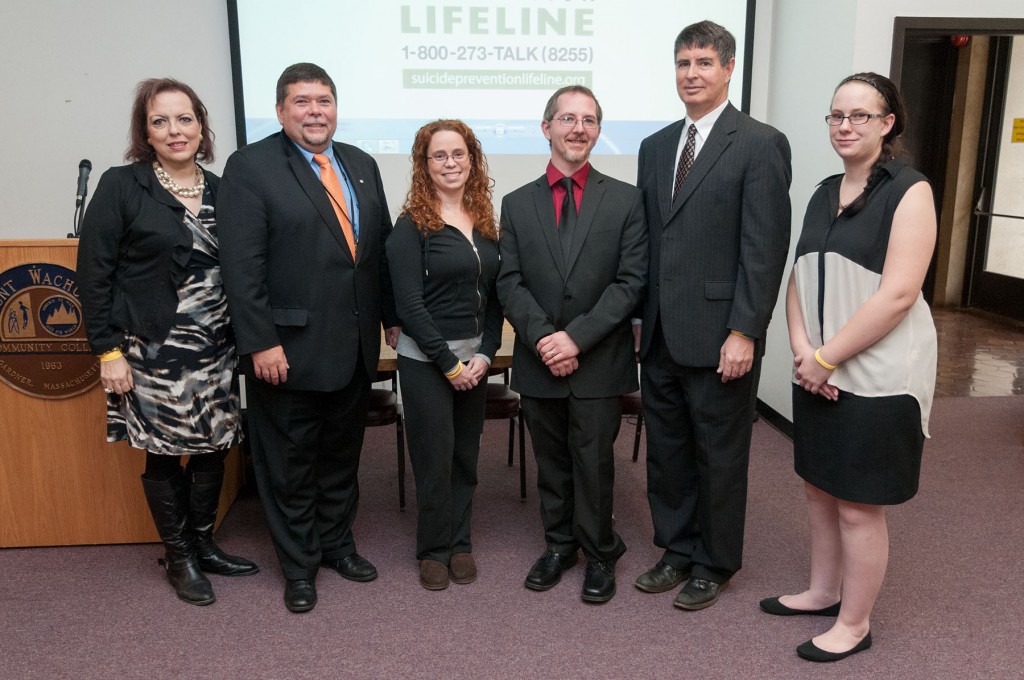 Mount Wachusett Community College Honors Program students Phil Stan and Stevie LaBelle led a poignant panel discussion to promote suicide awareness and discussion and encourage their peers to think past the stigma attached to mental illness.
The three-person panel included former State Senator Robert Antonioni; Michael Ellis, project coordinator of the Men's Suicide Prevention Program at Heywood Hospital; and MWCC student Carrie DeCosta. Representing three different perspectives on suicide and mental illness, the panelists shared their individual accounts with approximately 100 MWCC students in the college's North Café.
"Suicide and depression do not discriminate," said Stan, while introducing the Dec. 2 event. He lamented that suicide represents the second-leading cause of death among young people ages 10-24, yet is still regarded as a "social taboo."
"Elected officials look for issues to champion. That issue found me in 1999," said Antonioni, referring to the year he lost his brother to suicide.
"Suicide is seen as a stigma to avoid, but it shouldn't be. It should be on the forefront of everyone's minds, and we should look to intervene and help," he said.
"The way to get around this stigma and provide opportunity for discussion is to have forums" throughout the community, said Ellis. He encouraged students to seek education on suicide and mental illnesses, respond proactively to clear risk factors, participate in prevention training and learn to be accepting and tolerant of mental health issues. "Every single one of us has a role to play."
"It's important to share my story because you wouldn't think by looking at me that I struggled with mental illnesses," said DeCosta. "I was determined not to be a statistic and beat my illness."
LaBelle and Stan, MWCC's Student Trustee, organized the event as an extension of their abnormal psychology course and as a service learning project in the Honors Program.
"The fact that this many people showed up means the conversation has started," LaBelle said.