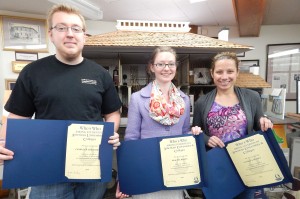 MWCC students enrolled in a range of academic programs and involved in numerous activities have been selected as national outstanding campus leaders and will be included in the 2014 edition of Who's Who Among Students in American Colleges and Universities.
The students were selected based on their academic achievement, service to the community, leadership in extracurricular activities and the potential for continued success. They join an elite group of students from more than 1,000 higher education institutions in the United State and several other countries. The tradition of recognizing noteworthy college students in a Who's Who biographical volume began in 1934.
The honorees were among the student leaders recognized by the office of Student Life during a reception April 24 at the Gardner Museum.
Students named this year include: Lourdes Abreu, Maria Alicea, Sheila Beane, Nicholas Bonfilio, Koral Brooks, Constance Brown, Mary Burns, Sandra Bushey, Ramon-Alejo Correa, Kathleen Craigen, Brianna Cullins, John Day, Anna Farwell, Nelida Figueroa Lopez, Grace Hartin, Thomas Hill, Charles  Husselbee, Jillian Johnson, Rachel Kalagher, Naomi Kiarie, Erin Leamy, Leandro Lopez, Heidi Lupien, Amber Martel, Kathleen Matson, Joan Mellanson, Dawn Murphy, Linda Patterson, Seth Pease, Elizabeth Reiser, Edward Sanchez, Bryan Sanderson, Hayleigh Sundstrom, Austina Towle, Brigitte Wong, Bridgette Woodcock and Jeffrey Young.