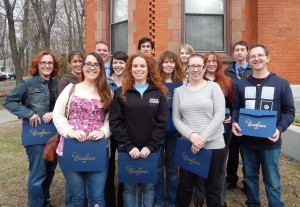 MWCC students enrolled in a range of academic programs and involved in numerous activities have been selected as national outstanding campus leaders and will be included in the 2015 edition of Who's Who Among Students in American Colleges and Universities.
The 30 students were selected based on their academic achievement, service to the community, leadership in extracurricular activities and the potential for continued success. They join an elite group of students from more than 1,000 higher education institutions in the United State and several other countries. The tradition of recognizing noteworthy college students in a Who's Who biographical volume began in 1934.
The following honorees were among the student leaders recognized by the office of Student Life during a reception held April 23 at the Gardner Museum:
Louis Ayisi, Amanda Baldino, Andrea Bartlett, Thomas Berger, Aleisha Berthiaume, Michelle Blackmore, Evan Bonenfant, Tara Burke, Micaiah Bushnell, Carrie DeCosta, Roxanna Figueroa, Mary Fournier, Chelsea Garrity, Michael Godin, Celine Grimley, Emily Lapinskas, Jillian Legere, Brandi Logue, Siobhan Mack, Michael P. MacLean, Amber Martinez, Ariel Meaney, Sharon Nabulime, Michelle Nye, Desiree Procell, Phillip Stan, Cathy Teague, Sammi Tovar, Aaron Trudeau and Robin Wead.