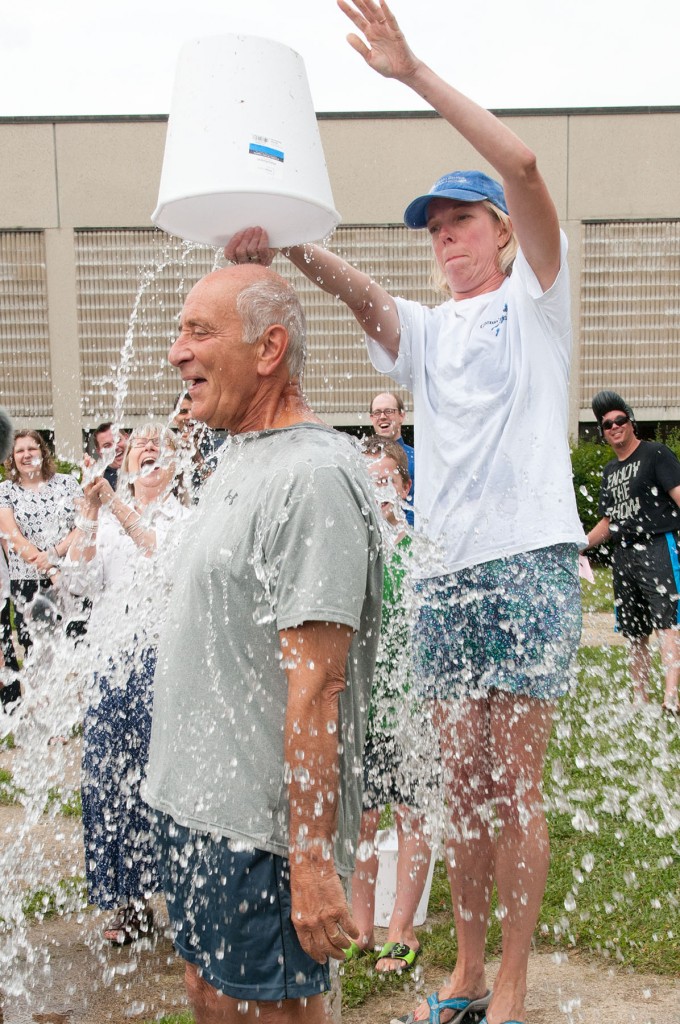 Twenty-four MWCC employees, including President Daniel M. Asquino, lined up for the ice bucket challenge in memory of beloved colleague Glenn Roberts, who died a year ago on Aug. 12, 2013 after a courageous battle with the disease. The effort, organized by Access & Transition Staff Assistant Jessica Connors on behalf of "Glenn's Friends," raised more than $2,600 for the Massachusetts chapter of the ALS Association in honor of Roberts, who worked as an advisor and dean at the college for 21 years.
One by one, participants were drenched by a friend, colleague or family member who bid highest for the opportunity to tip a bucket. After being soaked by her young son, Executive Vice President Ann McDonald had the privilege of dousing the president.
"I'm challenging the other community colleges to get involved and raise just as much for ALS," President Asquino announced.
In addition to President Asquino, Executive Vice President McDonald and Connors, other volunteers included Vice President Bob LaBonte, Vice President Lea Ann Scales, Kerrie Griffin, Kyla Holland, Jo-Anne Cronin-Fors, Scott Farris, Julie Crowley, Sue Guartafierro, Eric Johnson, Charity Cooley, Kate Smith, John Walsh, Michele Levasseur Goderre, Jim Halkola, Peggy Dow, Brenda Bourgeois, Lawrence Nfor, Chrystal Voorheis, Denise Whitney, Maryann Kane and Lexie Stewart.
To view the video, click here.