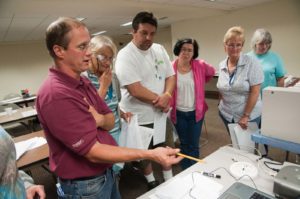 Mount Wachusett Community College will hold an Enhancing the Workforce Event on Tuesday, Aug. 8 to discuss new college programming that is building the workforce of Central Massachusetts.
"The Enhancing the Workforce event will be a great opportunity for people to learn about our new programs as well as how the college responds to businesses needs for skilled labor. Business owners and managers will also be presented with opportunities for specialized training through Mount Wachusett Community College to enhance their workforce," said MWCC's Vice President of Academic Affairs Melissa Fama.
The event being held from 3 to 4:30PM at the Gardner campus will cover programs the college developed in direct response to community and business needs. The programs that will be covered include Associate degrees in Health Information Management and Veterinary Technician as well as certificates covering the areas of Administrative Assistant, Mechatronics Advanced Manufacturing, Medical Coding, Office Assistant, Paramedics, Software Support, and Substance Abuse Counseling.
The event will also cover how MWCC works with businesses to secure funding and establish the curriculum for specific training needs. Over 150 companies have had more than $5 million in grant-funded training facilitated by MWCC. Participating companies have included: Nypro, GFA Federal Credit Union, UMass Memorial and Nashoba Valley Medical Center. Investing in training your staff will increase productivity, improve sales, increase profit and allow your company to do business better, faster, and more efficiently. The college has experts in numerous fields and can help establish the right training for any business.
The free Enhancing the Workforce Event will be held from 3 to 4:30PM. in the multipurpose room at MWCC's Gardner campus with light refreshments served. To RSVP please visit: mwcc.edu/career-ready.