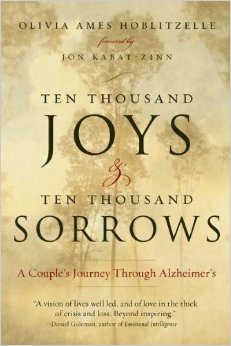 In recognition of National Alzheimer's Disease Awareness Month in November, Mount Wachusett Community College and its Nursing Advisory Board will welcome author and Alzheimer's caregiver Olivia Hoblitzelle. The presentation is free and open to the public and will take place on Thursday, Oct. 30 from 4 to 5 p.m. in the college's theater.
Hoblitzelle, whose husband Harrison was diagnosed with Alzheimer's at the age of 72, offers a unique perspective on coping with the disease. Guided by their backgrounds in psychology, Buddhist meditations and the wisdom traditions, the Hoblitzelles chose to embrace the diagnosis and their remaining years together. Olivia Hoblitzelle details these experiences in her 2010 book, "Ten Thousand Joys and Ten Thousand Sorrows: A Couple's Journey through Alzheimer's."
As a teacher in the field of behavioral medicine, Olivia Hoblitzelle pioneered the application of meditation, yoga and cognitive therapy into treatment for stress-related and chronic illnesses. In addition, she helped to develop one of the country's first training programs in mind-body medicine. Prior to his death in 2001, Harrison Hoblitzelle taught comparative literature at Barnard, Columbia and Brandeis Universities and received the Dharmacharya, or senior mediation leader, transmission from Vietnamese Buddhist monk Thict Nhat Han.
Alzheimer's Disease affects one in nine Americans aged 65 and older and one in three people over the age of 85, according to the Alzheimer's Association. The association also reports that Alzheimer's and dementia caregivers paid an additional $9.3 billion in healthcare costs in 2013.